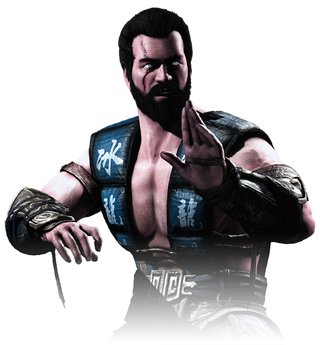 Kuai Liang also known as Sub-Zero  is a Lin Kuei assassin in the Mortal Kombat fighting game series. He is the younger brother of Bi-Han, who was the original Sub-Zero in the first Mortal Kombat game.
both Sub-Zero brothers were sons of a Cryomancer father and a human mother. It is known that the father of both brothers was a secret operative for the Lin Kuei in the United States. He married an American woman and together they had two sons. Against the will of their mother, the father took the sons with him to move back to China, and as such both brothers were trained as Lin Kuei assassins.
After Bi-Han was murdered by Scorpion during the tournament, Kuai Liang swore revenge on him. He mastered the art of Ice and Cold, and took his brother's former code name: Sub-Zero. Driven by anger, Kuai Liang entered The Mortal Kombat Tournament with one goal: To destroy his brother's killer, and anyone else that gets in the way.
That should be included?
Along with scorpion are the most popular characters in the series
and Mortal Kombat is a memorable series to justify two representatives
Specials
Nspecial (Ice Blast):Sub-Zero sends a blast of ice directly towards the opponent to temporarily freeze them in place for a free hit, sub zero can direct up or down (takes about three seconds approximately) if points down Sub-Zero freezes the floor and whoever steps on the circle of ice will slips
if Sub-Zero were to freeze the opponent twice, the second ice ball would defrost the opponent and freeze Sub-Zero
Sspecial(Slide):Sub-Zero slides across the floor, knocking the opponent off their feet, leaving a trail of ice behind him
Uspecial(Ice Stomp):Sub-Zero leaps up and comes back down, stomps on the ground freezing to nearby opponents
Dspecial(Ice Clone):Sub-Zero creates an ice clone of himself anywhere he chooses, and anyone who touches it will freeze
sub zero can grab and throw ice statue, but not freeze the opponent
Smash Attacks
SSmash:Sub-Zero creates an icicle and stabs the opponent with it
Usmash:Sub Zeo takes out his sword "Kori Blade" and shatters up
Dsmash:Sub-Zero summons a large warhammer made of ice, with which he pounds the opponent into the ground.
Normal Attacks
Jab:Two hits followed by a high kick
Stilt:Sub zero does a roundhouse kick
Utilt:Sub zero hits an uppercut
Dtilt:sub zero takes his sword "Kori Blade" and hit the floor
Aerials
Nair:a simple kick
Fair:hits with his sword forward
Bair:hits with his sword backward
Dair:Sub-Zero dives down in a diagonal kick
Uair:a backflip kick
Grab/Throws
Pummel:stabs with an ice dagger
Sthrow:Sub-Zero freezes his opponent solid, then punches them with an ice-covered fist
Bthrow:Sub-Zero grabs his foe, proceeds to roll backwards, brings up a leg as in a monkey flip
Dthrow:Sub-Zero forms a frozen bed of spikes behind his opponent, then kicks them onto the surface and jumps onto them
Uthrow:Sub-Zero freezes his opponent solid and uppercuts his opponent
Other Moves
Dash:Sub-Zero rushes the opponent with his shoulder, leaving a trail of ice behind him.
Smash Final:Sub-Zero freezes his opponent and sends an ice grenade, to make contact with the opponent exploded causing knocknband and ice damage, then hear Dan Forden's "Frosty" followed by Shao Kahn saying "Brutality"
Taunt:Sub-Zero covers himself up with a snowman
Entrance:Appears in a frozen ice clones before bursting out of it then tell Sub-Zero "This fight will be your last!"
Win:He raises his right hand in victory
Lose:Clap
Classic VS Theme
Victory Theme:(first 10 seconds)
Supporters = 6: