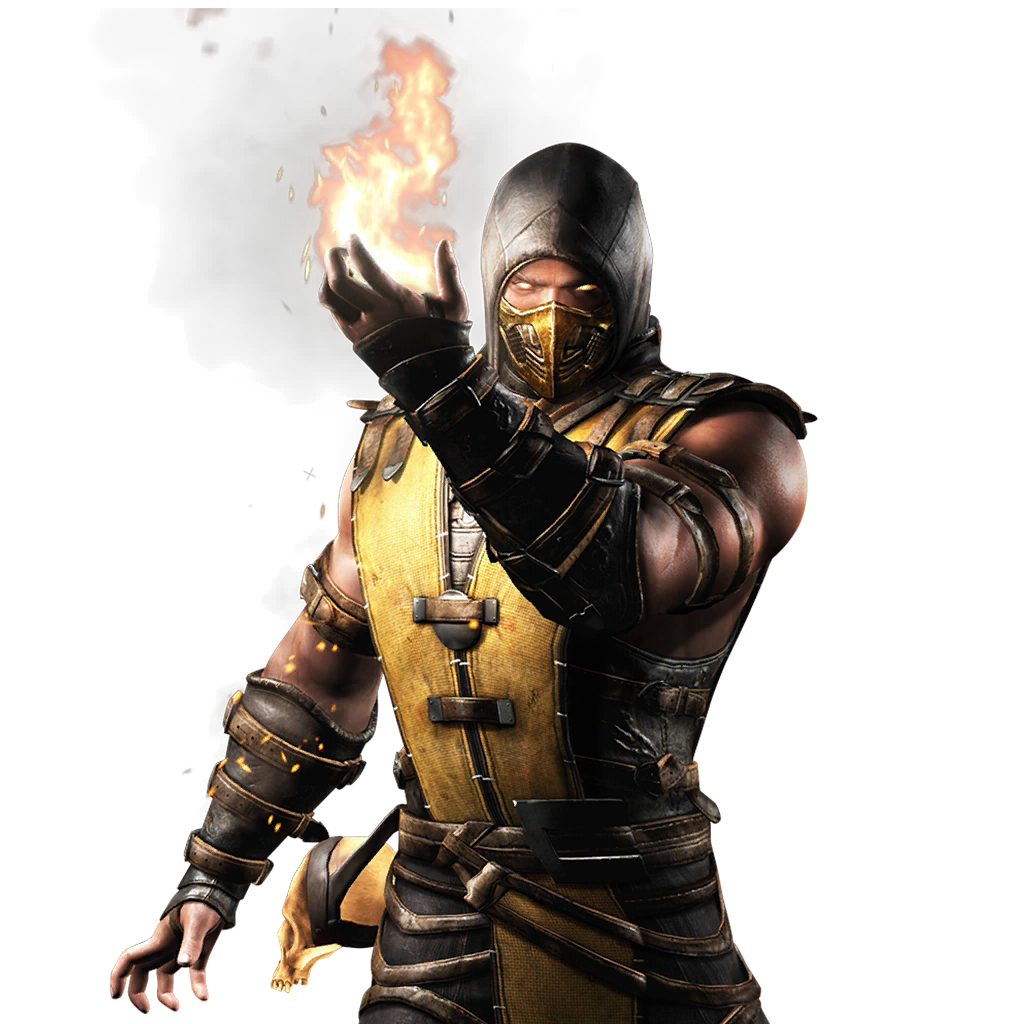 Once a member of the Shirai-Ryu clan of ninjas, Hanzo Hasashi aka Scorpion was killed by Sub-Zero (Bi Han) in battle while his whole family and clan were slaughtered by the menacing sorcerer: Quan Chi. Scorpion has returned, but he is now a ninja spectre. Resurrected and fooled by Quan Chi, he is now a warrior obsessed with vengeance, and blames Sub-Zero (Kuai Liang) for the death of his family and clan.
Mortal Kombat is one of the biggest video game franchises of all time and one of the reasons why it was created ESRB
Sub Zero & Scorpion are the most recognizable characters in the franchise
Specials:
Sspecial(Hellfire Punch):scorpion teleports back from a nearby opponent and charges against extended his fist, if there is't a close opponent simply loads forward
Uspecial(Shirai Ryu Fire): scorpion teleports back from a nearby opponent and hit the opponent with a flaming uppercut, in the air scorpion simply teleports and performs the flaming uppercut
Nspecial(Fire Ball): Scorpion throws a ball of hellfire at the opponent
Dspecial(Hellfire/Free-Fall Super Move):Scorpion summons the fires of Hell to burn his opponent from underneath
in The air  Scorpion stabs his spear into his opponent's chest, swings them behind him, and throws them to the ground
Normal Attacks:
Utilt:Scorpion Performs a Uppercut
Stilt:Scorpion performs a roundhouse kick
Dtilt:Scorpion trips his opponent with a leg scissor takedown
Smash Attacks:
Usmash:Scorpion performs a backflip kick followed by a trail of fire
Dsmash:scorpion surrounded by flames gaining a temporary damaging aura of flames that damage to anyone who touches it
Ssmash:Scorpion summons his sword and Slashes Forward
Aerials:
Fair: Scorpion summons his two axes and swings them forward
Nair: a simple kick
Bair:Scorpion makes a backward kick
Dair:Scorpion throws himself down and impales his kunai on the floor.
Uair:Scorpion performs a fire uppercut
Grab/Throws:
Grab:Scorpion send out a rope or metal chain with a tipped Kunai at the end (Also works in the air
)
Sthrow: Scorpion stabs his spear into his opponent's throat and then either kicks them away
Uthrow:scorpion launches the opponent up then teleports up the opponent and hit him with a kick of fire
Dthrow:scorpion throws the opponent to the ground and then trampling
Bthrow:scorpion grabs the opponent and throws him violently backward
Airthrow:Scorpion throws his opponent to the ground
Smash Final (Toasty!!!):scorpion takes off his mask, revealing a skull face, and breathes a long stream of fire at his opponent causing much damage and knockband, then hear the famous "
Toasty!!!
" followed by Shao Kahn saying "
Fatality
"
Other:
Taunt:Scorpion whips out a Scorpion doll and text appears on the screen saying "Buy a Scorpion Doll" Followed by Shao Kahn and a logo saying Friendship
Taunt 2: Scorpion winds up a box which makes a giant skull pop out of it scaring off himself
Followed by Shao Kahn and a logo saying Friendship
Dash:Scorpion is wrapped in flames and lunges forward
Win:Scorpion puts her arms on her hips while looking at the camera
Lose:Clap
Entrance:Scorpion leaps out of the ground on fire, lands, and then becomes engulfed in flames. He extinguishes the flames and gets ready to fight
then tell scorpion "Vengeance will be mine!"
Paletteswaps
http://orig01.deviantart.net/62b4/f/2011/178/5/7/mk_klassic_ninjas_by_tansoman-d3k4s1d.png
Classic VS Theme
Victory Theme:(first 10 seconds)
Support List = 19: