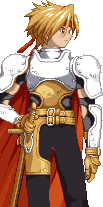 (Sprite made by me, with edits from Dustination, PA from psx game)
Cless Alvein is the main protaganst of the Snes classic, Tales of Phantasia.  The game came to to America via fan translations of the PSX (and soon to be PSP) and SNES versions, as well as an official localization of the GBA version.  Cless is iconic to the Tales of series, being the main character from the original game of the series.
The SNES version of the game had an interesting mechanic.  The user would equip long and short range moves.  I'll be incoorperating that in his moveset.
Down Special: Set Target
I have two ideas of how this could work.  The first is that it would cycle through opponents every time the button is pressed.  The second is that you would need to connect with an attack to set a target.
Once the target is set, Cless' specials will have long range and short range versions, depending on Cless' distance from the targeted characters.     
Close Range Specials:
Up Special: Lightning Tiger Blade
Cless does an upward slash, hits the opponent with lightning, then does a downward slash.
Neutral Special: Guardian Field
Cless puts his sword in the ground and a circle of light appears on the floor around him.  Does repeated, low-percent damage(1-2%) to enemies as well as stunning them shortly.  The big con is pretty high start up lag.
Forward Special: Light Spear
Cless dashes forward, slashing enemies with his sword, all while leaving a trail of light behind him.  It doesn't leave an trail or go as far if done in the air.
Long Range Specials:
Up Special: Teleport
(I forget what the move is called in ToP)
Cless floats in the air for about a second, and then teleports in an imputed direction.  If a character gets in the way of the teleport, Cless will do a downward slash, gimping both himself and the character he hit.
Neutral Special: Demon Fang
Alternative: Cless stands still for a moment and heals himself.  High start and end lag.
Cless sends out a shockwave from his sword
Side Special: Hell Pyre
Cless jumps backward and throws his sword forward at a downward angle, as the sword rotates with a fire effect over it.  The angle of the sword can be adjusted to a small degree, taking advantage of analogue controls.
Side Smash: Beast
Cless attacks by slamming his shoulder into the opponent, with a blue boar special effect over it.  Look at Lloyd in SSF2.  If timed correctly, this can cancel into Cless' up tilt to bring the battle into the air, allowing for the move to combo rather than just being for knockback.
Up Smash: Upward StabDown Smash: Aegis Strike
Cless plants his sword into the ground (startup animation, this pose is held while charging the smash), then the blade of the sword lights up and creates a small blast right in front of him.  It would have a similar hitbox to Krystal's current side smash.
Down Aerial: Distortion Blade
Cless holds his sword out as he falls down, as a blue energy expansion to his sword emerges.  The blue energy blade expands the longer Cless falls.
Side Aerial: Rising Phoenix
(Similar to Lloyd's rising falcon, but cooler looking) Cless goes down at a 45 degree angle with his sword held the way he is facing.  On top of him there's a phoenix special effect.
Up Aerial: Tiger Blade
Cless does an upward slash.  If pressed again with proper timing, Cless follows with a downward slash.
Neutral AerialDown TiltSide TiltUp Tilt
Upward slash
Jab
Sword stab.
If pressed repeatedly and very quickly, Cless does sword rain.  If timed right, this can combo into the uptilt to make Sword Rain: Alpha.  (It would be neat to have "Sword Rain" and "Alpha" as separate sound clips to make it seem more legit.)
Running Attack
Running stab
Final Smash
I'll come back to this thread with more of the moveset filled out.