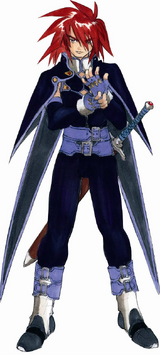 Origin: Tales of Symphonia
Background: Kratos Aurion is a mercenary who travels with the party at the start of the game. He's a mysterious character who fits into the "magic swordsman" archetype of the Tales series, able to use both Strike Artes, Healing Artes and Magic Artes. His intentions are unknown at the start of the game, and he's a compelling character who at times you cannot tell if he's truly good or evil...
Why Kratos over Lloyd?
Kratos has appearances across multiple games, including Symphonia and Vesperia. Lloyd is also in SSF2 and I...haven't quite figured out a moveset for Lloyd yet.
Overview: All-arounder. He has a mix of zoning tools and powerful close quarter combat.
Moveset:
Stats:
Weight: Middle-heavyweight
Walk speed: Fast.
Run speed: Average
Jump height: Average
Jump number: 2 midair jumps (he has wings which he can use at will)
Special Mechanics: Overlimit.
After taking 100%, Kratos will go into Overlimit mode. Overlimit will briefly power up his specials for approximately 30 seconds, however, after either 30 seconds or if Kratos loses his stock, it will wear off.
Normals:
Neutral Combo: A pair of double slashes, the first being an overhead slash and the second being a backhanded upward slash.
Side Tilt: A horizontal slash outwards. Predominantly used as a spacing tool, and can be used to set up edgeguards.
Up Tilt: A jumping upwards slash. Can start combos and is a good anti-air.
Down Tilt: Kratos puts his hand on the ground and casts "Stone Blast", which sends three stone projectiles up from the ground, knocking the opponent into the air for a juggle.
Dash Attack: Super Sonic Thrust - Kratos dashes forward and stabs at his opponent. If the attack connects, the move will launch at a horizontal angle, which acts as a surprisingly powerful KO move.
Smashes:
Side Smash: Hurricane Thrust - Kratos quickly moves forward and stabs at his opponent. If the attack connects, the move will finish with a powerful shockwave, which acts as a powerful KO move.
Up Smash: Light Spear Cannon - Kratos spirals around into the air before landing and stabbing upwards. This move has a high damage output, but mostly acts as a combo finisher.
Down Smash: Grave Blade - Kratos slams his sword into the ground, creating a shockwave that launches debris at the opponent. This has a strong hit (shockwave) and a weak hit (debris), and this move does a lot of shield damage, but the strong hit only hits on one side.
Aerials:
Neutral Air: Light Spear - Kratos spins around twice before stabbing forward. Decent combo potential.
Forward Air: A forward slash in the air. Good combo potential.
Back Air: A backwards slice. Good for edgeguarding.
Up Air: An upwards stab. A good vertical kill move.
Down Air: Lightning - Kratos casts a pillar of lightning in front of him. Effectively similar to Pikachu's Thunder, however, this move has less active frames overall due to it's faster descent, and it weakly meteor smashes.
Specials:
Neutral Special (Demon Fang/Fierce Demon Fang):
This move changes depending on whether you tap or hold the button.
Tap: Creates a grounded projectile that slightly knocks foes up.
Hold: Creates a grounded shockwave that sends foes up, directly putting them in a position for combos.
Side Special (Lightning Blade/Super Lightning Blade): Kratos stabs forward and creates a bolt of lightning upon stab. This paralyses them briefly before hitting them away. Kratos can immediately follow up a Lightning Blade with Super Lightning Blade, which adds a wind effect similar to his side smash before doing a bit more knockback. The second paralysis from S. Lightning Blade has a smaller duration, encouraging you to follow the move up.
Down Special (Judgment): Kratos goes into a guard stance and starts charging. During the guard stance, if he takes 10% (not from one attack), he'll be knocked out of the move and lose his charge. After 2 seconds, the move will release and multiple pillars of light will intermittently cover the stage dealing a lot of damage and vertical knockback. The amount of charge increases the number of pillars of light from 1 to 7.
Up Special (Victory Light Spear): Kratos does a spiralling sword strike followed by a powerful horizontal slash at the end of the move. This move can be combo'd from his aerials, it goes a reasonable degree of distance, and is a kill move.
Grabs:
Pummel: Hits the foe with the base of his sword.
Forward Throw: Fire Ball - Throws and shoots three fireballs at them. Can start combos.
Back Throw: Turns the foe around and kicks the foe in the head, sending them diagonally upwards.
Down Throw: Air Thrust - Hits the foe multiple times whilst trapping them in a cage of wind.
Up Throw: Grave - Traps the foe between pillars of rock before they explode. An incredibly strong kill throw.
Final Smash - Shining Bind:
A seal appears around Kratos knocking everyone up. Rays of light knock the opponents caught in it closer to Kratos as his angel wings appear. Kratos yells the name of the arte, as he's lifted into the air whilst everyone caught in the move takes lots of repeating hits before being knocked away.
Taunts:
Up Taunt: Kratos lifts his sword in the air whilst his angel wings appear, before he lowers the sword and the wings disappear.
Side Taunt: Kratos points his sword outwards and says "Blame your fate!".
Down Taunt: Kratos starts casting. After 2 seconds, he'll create "Healing Wind", which lasts for 3 seconds and heals Kratos for 15%. Any interruptions will cause the time to reset.
Victory:
Kratos sheathes his sword and puts his shield away, makes his GC artwork pose and says "Blame your fate!"