Hey, it's been awhile.
Although the forum is pretty dormant right now, I'm gonna post this here anyway.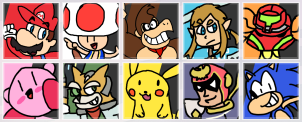 I figure a few of you might be interested in seeing the project, so that's why I posted this here.
I'm drawing a bunch of characters for a Smash Bros. roster everyday (usually). Sometimes I post two characters a day, are very rarely I won't post any. That's all you really need to know, but the specifics are on the Discord server, if you're interested in that (https://discord.gg/WFKbBD).
I also have a DeviantArt and Twitter which have the same name as I do on the forum (if you wanna follow there instead).
Of course you don't have to do any of that, you can just look at this and walk away, but I'd really appreciate if you came to the Discord server, even if in the end you never really say anything.