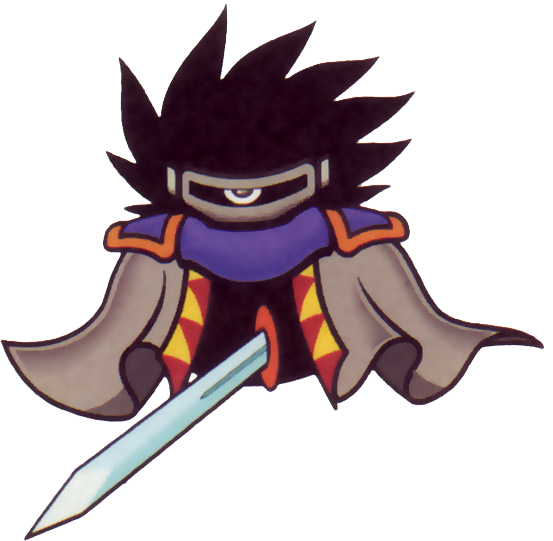 The Dark Matter race is one of the main antagonists of the Kirby series, starring in 3 games in total as the main villains, making them the most recurrent villains of the Kirby series, next to King Dedede, who isn't a villain per sé. He could be added in since there is a lack of Kirby characters in the roster and Smash in general needs more villains (Meta Knight and King Dedede don't fall in this category, they're just Neutral)
This specific Dark Matter is the main villain in Kirby's Dream Land 2, where he appeared as both a swordsman and in orb form: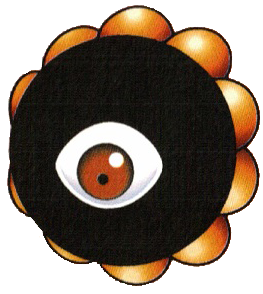 Games:
-Kirby Dream Land 2
-Kirby Dream Land 3
-Kirby 64: The Crystal Shards.
-Kirby Mass Attack
Spoiler:
His moveset would feature switching between both of these forms, akin to Pac-Man in SSB4 or Corrin. His moveset in overall would be a tribute to most Kirby villains.
The Dark Matter trilogy is barely acknowledged in the Smash franchise, and Smash is lacking villains in general, so I think including him would fix both of those issues.
Now, let's not waste any more time and let's get to the moveset!
Attributes:
1- Has 3 jumps, and can levitate just like Ganondorf and Mewtwo, only once in the air.
2- He floats in his running animation.
3- Switches between two forms: Swordsman and Orb, similar to SSB4's Pac-Man, in the fact that he keeps one form in battle but changes form in some of his attacks and moves.
4- His crouch involves him turning into his Orb form, crouching. He can also crawl in this mode, growing
Mariel's
legs, which let him walk slowly forwards and backwards. Each leg is colored like his standard color (in this case, yellow) so you can tell apart who's who in the game if multiple players are using Dark Matter in the same match.
Jab:
1 & 2: Two forward slashes, akin to how Kirby slashed the
Rainbow Sword
against Dark Matter in Dream Land 2. Then performs the Multisword Slash from the
Sword
/
Master
copy abilities, giving him an infinite combo akin to Melee Link. 1st: 3% 2nd: 4% Multi: 1% each
Side-Tilt:
Swipes his sword forwards very quickly. Based on the sword slash Dark Warrior made before attacking in Dream Land 2.
Up-Tilt:
Does Meta Knight's Up Thrust with his word electrified in black lightning. 7%
Down-Tilt:
Grows
Mariel's
legs and slams against the ground, sending two small black stars to the sides, damaging nearby opponents. The real hitbox is in the slam, while the stars are secondary in his attack, similar to Dedede's Up-Special just without the jump. The stars can be reflected. 6%
Dash Attack:
Quickly moves forward with his sword on front, stabbing. The attack leaves a trail of afterimages at the beginning. Based on one of his attacks from Dream land 2. 5%
Side Smash:
 Thrusts the sword forward, with the sword spinning like a Drill. He advances a little with this attack. Based on Meta Knight and Sword Kirby's Drill attack from Kirby Return to Dream Land onwards. 12%
Up-Smash:
Rises his sword and shoots several bolts of black lightning towards the ground. Based on one of Queen Sectonia's attacks. 11%
Down-Smash
: Grows a spiked tail similar to that of Zero Two's, buries it into the ground and grows two giant spiked plants on the sides. 13%
Neutral-Aerial:
Becomes his Orb form and rotates his "petals", doing consecutive damage. Based on one of Dark Matter's attacks in Dream Land 2 & 3. Each petal: 1.5%
Forward-Aerial:
Holds his sword over his head and quickly swings it forward, similar to one of Queen Sectonia's attacks. Does 7%
Back-Aerial:
Grows one of Zero Two's wings and attacks with the wing backwards. Does 6%
Up-Aerial:
Makes an upwards slash with his sword. 6%
Down-Aerial:
Grows Zero Two's spiked tail, makes a quick spin in the air before dropping into the ground. Does 8% and can spike. Dark Matter can't stop the attack until hitting the ground or the bottom of the stage, so use at your own risk.
Neutral-Special: Dark Blast
Dark Matter shoots a black laser-like projectile, can be charged. This attack can be reflected with regular attacks, similar to Ganondorf. His Side-Tilt howeer, allows him to counter a reflected projectile very easily, given how it's a quick (and weak) attack with barely any ending lag. Whenever a projectile is reflected, it'll increase in 1% of damage and become faster each time.
No charge: A small black/purple laser, does 4%
1-2 second Charge: A slightly bigger black/purple laser, does 6%
3-4 second charge: A medium sized black/purple beam, does 8%
Max Charge: A fast and big black/purple orb. Does 12%
Based on one of his attacks in Dream Land 2 and Planet Robobot.
Side-Special: Boost Chomp
Goes into this
form
and boosts forward. Upon starting the move, the eye will turn into a mouth repeteadly biting, damaging opponents in its way. Each bite does 2%
Based on one of Possesed Dedede and Shadow Dedede's attacks.
Up-Special: Angelic Rise
Dark Matter holds his sword upwards, grows Zero-Two's wings on his back and quickly rises upwards, flying. The move does 5% Can be charged up to 3 seconds to rise his recovery a bit more. Also, can be angled.
Based on one of Marx's and Galacta Knight's attacks in Kirby Super Star.
Down-Special: Orb Blast
Dark Matter goes into Orb-form and summons four of his "petals". Which will start floating into the air, following him. Afterwards, Dark Matter has 4 options for this move:
1- Press Down-Special again to shoot one of the petals. All of them are pretty weak and make a small explosion when connecting to an opponent. Does 4%
2- Hold down the Down-Special button to shoot all of them in one single, but slower projectile. Does 10%
3- Press the Side-Special button to drop all the petals while you use your Side Special. Can be used for some lol edgeguarding. Does 7%
4- Just don't press anything to keep the petals behind you. That way you can block enemy attacks from your back. Though, if the petals are too near from you and someone attacks them, they'll all burst out and damage both Dark Matter and whoever attacked him from behind. You can keep the petals away from you by either taunting, running away from them, etc. 5%
Final Smash: Zero Two
Dark Matter calls Zero Two which stays in the background, blasting off Opponents with several Blood attacks, summoing small Dark Matters that ram on the opponents, summoning Spiky Vines from the ground, etc. The whole atacks lasts 15 seconds.
Blood: 7% Each
Dark Matters: 6% Each
Spiky Vines: 8%
Based on several of Zero and Zero Two's attacks from Kirby's Dream Land 3 and Kirby 64.
Grab:
Rises a black tentacle from the ground to grab an opponent.
Pummel:
Grows a mouth from his stomach and bites the opponent. 1%
Forward-Throw:
The tentacle tosses the opponent forwards. 5%
Back-Throw:
Dark Matter stabs the enemy with his sword, turns back and slams the sword (with the opponent still stabbed) against the ground, tossing the opponent. 7%
Up-Throw:
The tentacle tosses the opponent upwards while Dark Matter shoots 3 Dark beams from his eye at the opponent. The Toss: 4%, The Beams: 1% each.
Down-Throw:
Calls several mini-Dark Matters that consecutively attack on the opponent by ramming at the opponent very quickly. Does 11%
Entrance:
Falls from the sky in orb form, changes to Swordsman form and unsheathes his sword.
Taunt(s):
1- Faces the camera and shows his eye in his stomach in this
pose
, while roaring.
2- Turns into the same pose as a
Nidoo
, falls into the ground while snickering.
3- Faces the camera and changes his face in
that of Zero Two's before facing against him.
Victory Pose(s):
1- Teleports away from the results screen.
2- Appearsas a shadow from the ground and materializes himself while holding a pose.
3- Grows Zero Two's Wings and Halo while levitating on the air.
Costumes: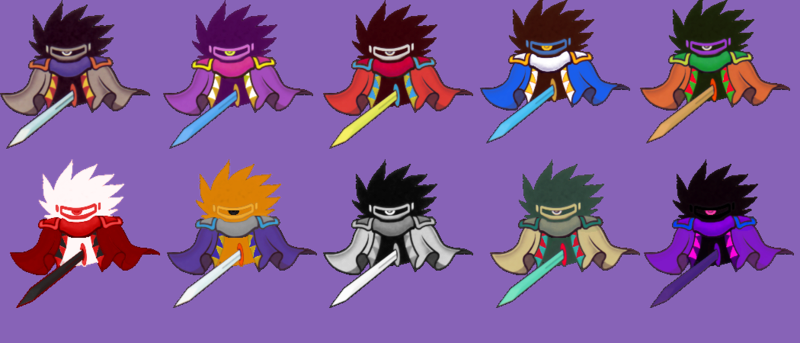 1- Default
2- Based on Drawcia
3- Based on Marx Soul.
4- Based on Magolor.
5- Based on Yin Yarn.
6- Based on Zero and Magolor EX.
7- Based on Dark Mind.
8- Based on his Game Boy Colors.
9- Based on Magolor Soul.
10- Based on Dark Nebula.
Supporters:
DemonicGamerAzazel
davi_taborda
wheeled_tank
Braystar
OmegaSteve777
thebuddyadrian
TheRedBeast
VultureDuck