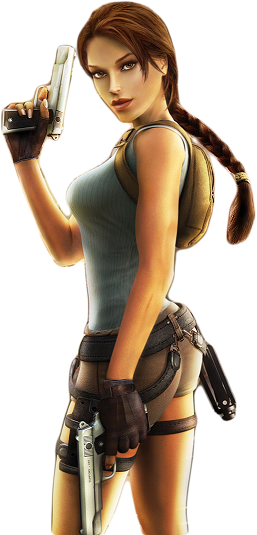 Lara Croft is the main character of the video game series Tomb Raider. The Tomb Raider franchise has spawned 9 main titles in the series, two isometric side-games, a few handheld games, mobile games, and even a DVD game. The franchise has been rebooted twice, and the most recent title in the series is currently a reboot, with a second game in the series to be releasing the holidays of 2015.
Lara is an archaeologist and a treasure hunter, having found the fabled weapon Excalibur of King Arthur, and Thor's Hammer, among plenty of other fascination discoveries. The Tomb Raider games usually revolve around Lara trying to uncover a mythical object, hidden deep in the world. Lara has an arsenal of weapons with her, ranging from her array of guns, to secondaries like grenades. While she prefers to use her weapons, her kicks can be quiet devastating.
Lara is quick and agile, and even faster on the trigger. She's not a force to be reckoned with.
Reasons for Crusade
She's a fast an agile character, and I feel her move-set could fit in with the rest of the characters.
If characters likes Crash could get in on this, Lara has a fair chance too.
Note:
I just wanted to leave a quick note before I get into the move-sets and all that good stuff. I vaguely remember her being talked about when I first stumbled across this game a year or so ago. I don't know what became of that discussion, but I think a lot of her move-set was either unfinished, or just not thought of to be good enough. I don't know if she was confirmed or not to be added at a later date, or as DLC, but I honestly can't find anything about it. I don't see her used in the list of unofficial characters either. I want to apologize ahead of time if this post isn't needed.
Anyway, hopefully this could help the character be considered otherwise. I'm open to critiques, slamming, shaming, and the occasional but rare nice comment.
Move-set:
(In-case this is too elaborate, or over-powered, I've taken to making some alternatives moves at the end to hopefully compensate.)
Gimmick
: Interchangeable weapons and gear specials.
If the special button is held with their appropriate direction (Or lack-there-of in the case of a neutral special), Lara will cycle through her arsenal of weapons, grenades, and gear. If the special is used normally, the appropriate item will be used.
Neutral Special
: Interchangeable Weapons
(Note: Would ammo limitations be possible, or maybe some form of overheat mechanic to ensure the
guns can't just be sprayed? Maybe a slower rate of fire?)
Suggested Weapons:
Pistol (Akimbo) - Lara's default weapon of choice. She shoots two pistols, alternating her shots.
Pump-Action Shotgun – Lara switches to her trusty shotgun. A powerful, short-range burst shot; however it's slow due to her having to pump the gun every shot.
Assault Rifle – Lara pulls out a rifle. It could shoot in bursts of three, or be fully auto.
Side Special:
Interchangeable Grenades
Frag Grenade – Lara tosses out a frag grenade in front of her, detonating either on impact, or with a timer. The grenade can roll on flat surfaces and slopes. (Roughly 2-3s?)
Sticky Grenade – Lara tosses out a grenade that can stick on the surface, or the enemy. Detonates after a few seconds. (Roughly 2-3?)
Down Special:
Interchangeable Gear (Cannot be switched after use.)
First-Aid – Lara pulls out a medi-kit, and bandages her wounds. Restores a small amount of her life. One use. (Roughly 10%? One use per game? Per death?)
Crowbar – Lara pulls out a crowbar. The crowbar can be used like a normal item, replacing Laras' jab combo, and possibly her smashes. Breaks after some usage. (Slim damage increase, 1-3% maybe?)
Up Special:
Grappling Hook – Lara throws her grappling hook above her. Can be tossed up and to a diagonal for better recovery. Minimal to no damage when hit with. Effectively is a tether recovery.
General Attacks:
Jab: Lara assumes a combat stance and delivers two punches, followed by a swift knee to the stomach.
Stilt: Lara delivers a swift elbow swing to her enemy.
Dtilt: Lara plants her hands on the ground, and kicks out one leg in front of her.
Utilt: Lara punches straight up above her.
Smashes
Ssmash: Lara rears up her leg, charging up to deliver a devastating sideways kick.
Dsmash: Lara gets low to the ground, planting her hands down, and charges up for a quick spinning leg sweep.
Usmash: Lara slides her leg out in front of her slightly, and charges up to deliver a kick straight up into the air.
Aerials
Nair: Lara lays sideways and delivers a dropkick to her foe.
Fair: Lara swan dives into her opponent.
Bair: Lara turns her head and quickly tucks one leg under the other, jutting the other one in front of her. (See Dash below.)
Dair: Lara shoots down at a slight angle, putting the full force of both her feet into her opponents face.
Uair: Lara does a drill kick upwards.
Throws
Grab Attack: After grabbing her opponent, Lara bashes her opponent in the head with the base of her pistol.
Uthrow: Lara tosses her opponent into the air, and pulls out her shotgun, delivering one quick shot to her opponent.
Dthrow: Lara throws her opponent to the ground, pulls out her pistol, and quickly shoots them.
Sthrow: Lara throws her opponent forward, and quickly pulls out her rifle, delivering a quick burst of bullets into them.
Bthrow: Lara tosses her opponent behind her, pulls out her akimbo pistols, and delivers a few bullets to her enemy quickly.
Final Smashes
Final Smash: (Excalibur; Thor's Hammer) Lara could either randomly pull out the Excalibur sword, or Thor's Hammer. Both would function similarly, except the sword would be faster but weaker, and the hammer would be stronger but slower. Both would have increased damage, and replace her smashes and jabs with new attacks.
Excaliburs' jabs would consist of two diagonal slashes, followed by a quick stab forward.
Thor's Hammers' jabs would be bulky side swings, and a powerful down swing to end it.
Excalibur and Thor's Hammer have the ability to expel pulses of energy when swung. Instead of being able to smash, Lara would swing her weapon in the chosen direction to expel the blasts, as well as the weapon itself being capable of dealing damage. The sword and hammer could have energy meters, or expel after a short period of time. (Could just use one weapon.)
Alternative Final Smash: Staff of Osiris
Horus and Isis have lent a staff for Lara to use in her time of need. The staff is capable of emitting a light beam that deals high damage, but cannot be used any way else. The beam could be shot in all directions.
Other
Dash: Lara dashes forward at her enemy and quickly jumps forward, tucking one leg under the other to form a triangle, and using her other leg to unleash a powerful kick. (Basically a Sex Kick.)
Jumps: Her usual forward jump, followed by a quicker forward swan dive somersault.
Dodges: Laras' backward dodge roll would be a backwards handspring.
Entrance: Lara comes in from off screen on her motorcycle, ditching it off the platform edge.
Taunt: Lara spins her pistols with her fingers, then holsters them.
Win: Lara pulls out her pistols, and blows the smoke from the barrels.
Lose: Lara glares at player.
Alternatives
I'm going to put these in a spoiler to save space.
Alternatives Moves:
Also, her swan dives won't end up in her being killed like in the game.