E-123 Omega is one of the E-Series robots created by Eggman to serve as a guard robot for Shadow. He's a spiritual successor to E-102 Gamma and seeks revenge on Eggman and his creations for wasting his potential.
Omega/Gamma is probably one of the coolest and most underrated characters in the Sonic series, and it would be nice seeing a Sonic character in Crusade that wasn't an animal. (Also because Sonic Heroes was just an awesome game tbh)
Weight: Pretty heavy but not heavy enough to be considered super heavy weight. I'd say he falls between Ganondorf and DK.
Speed: His walk is pretty slow, but he uses his jet boosters when he runs, so his speed would probably be ok-ish.
Hover: Yes
Pallete Swaps:
Default Pallete
Black Pallete (E-101 Beta)
Blue Pallete (E-103 Delta)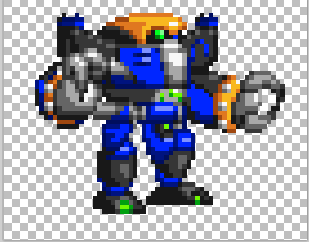 Yellow Pallete (E-104 Epsilon)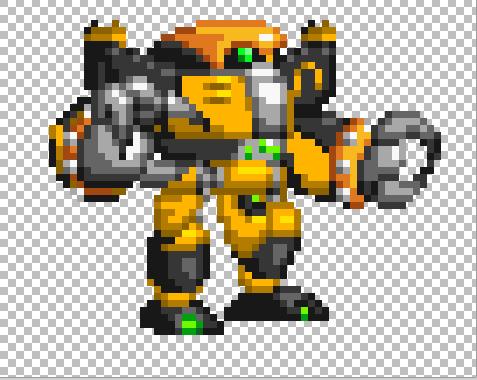 Purple Pallete (E-105 Zeta)
Green Pallete (E-100 ZERO)
Moveset:
Hover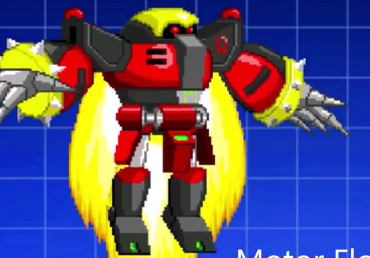 He's just flying there, m e n a c i n g l y
Dash Attack
He does a shoulder tackle, travelling a decent distance. He gains super armor during the beginning of the move.
Up Tilt

He slashes with his claw, catching anyone close to him and launching them upwards. Can combo into itself.
Forward Tilt
Omega swipes his fist donwards, launching anyone caught in it's range away from Gamma. If you hit someone with the bottom hitbox then it'll spike.
Down Tilt: No sprites but imagine it being Omega sitting down and having his legs transforming into saws
Neutral B
https://gfycat.com/JollyForkedAmericancreamdraft
From Sonic Heroes, Omega shoots a cannonball from his hand. It deals more knockback the further it travels and you can shoot twice before having to reload.
Side-B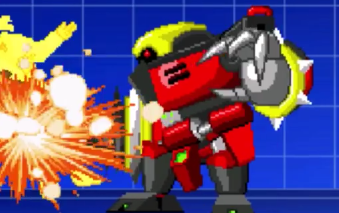 Omega's hand transforms into a flamethrower and he torches anyone caught in its distance. Charging it increases its range and amount of hits.
Down B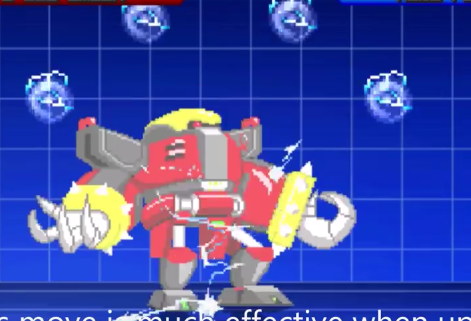 Omega releases 4 lightning balls in the ground. After a short while, they'll burst into lightning and damage anyone near or above them. The balls themselves also have hitboxes when travelling, and can potentially gimp opponents when used offstage.
Up-B
Same animation as the hover, and it works like R.O.B's Up B where it has a limited amount of fuel and you can attack during it.
Down-Air

Omega rockets down in high speeds and spikes anyone that he comes in contact with.
Neutral-Air
Omega t-poses and rotates his body around. Think of it like T. Bonne's heavy attack in mvc3
Up-Air
Omega shoots a missile upwards, exploding when touched or after a few seconds.
Forward Air
Omega turns his hand into an axe and slashes sideways. This move is a bit slow but deals a lot of damage.
Back Air
Omega uses his booster jets to propel himself forwards and also damage anyone behind him. Works like R.O.B's bair but is bigger.
Forward Smash: Omega turns his hand into a Minigun and fires away in front of him. Anyone that is caught in the ray of fire until the end will be sent away, like Porky's F-Smash
Down-Smash: Omega turns both of his hands into a flamethrower and rotates his body, dealing decent knockback. Using this move slightly moves Omega forward.
Up-Smash: Omega's hand turns into a laser beam, and shoots a laser upwards, dealing good damage but  not that great knockback.
F-Throw: He grabs you and blasts you away with a machine gun.
D-Throw: He throws you down and smashes you with both of his hands.
B-Throw: He drags your face across the stage and throws you backwards.
U-Throw: He grabs a laser beam and shoots you upwards.
Get-Up Attack: He gets up and boosts forward, knocking away anyone in front of him.
Ledge Attack: He climbs the ledge and immediately does a forward-tilt.
Taunt: He strikes a powerful pose and says something among the lines of "I'LL SHOW YOU THE POWER OF OMEGA!" or "WORTHLESS CONSUMER MODELS, ERADICATE"
Final Smash
https://gfycat.com/WeeklyCornyCero
From Sonic Heroes, Omega shoots a giant laser beam and rotates his body around so the beam covers both his front and his back. When the beam ends, his body releases a burst of energy that will kill anyone caught near him.
Classic Mode Theme
Victory Theme
from 0:39 to 0:47