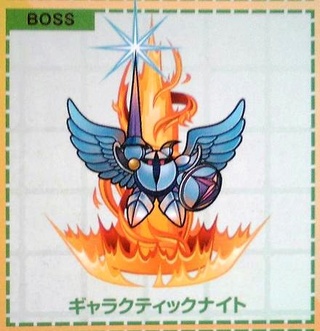 Official artwork from Kirby Super Star Ultra
"This ancient swordsman is feared for his immense power. He is not a clone. He was awakened and brought here via an extra-dimensional road beyond the space-time continuum." -VS Galacta Knight Returns (Kirby: Planet Robobot)
==Overview==
Galacta Knight first appeared in Kirby Super Star Ultra, as the final boss of the sub-game known as Meta Knightmare Ultra, in which you play through several of the games of Super Star Ultra as Meta Knight. The game presumably takes place after the events of the aforementioned other games, as can be seen by NOVA having to be put back together, and appearing to be very damaged when he is. When NOVA is put back together, he offers Meta Knight one wish, similar to what happened with Kirby. However, since Marx is now defeated, and cannot interfere, Meta Knight gets to properly make his wish. He says that his wish is to become stronger, so he wishes to fight "the greatest warrior in the galaxy". NOVA warns Meta Knight that his wish would unleash a being so powerful, that it had to be sealed away simply because he had too much power. Despite this, NOVA summons Galacta Knight anyway. Both knights fly off into the distance, and the fight begins. (Galacta Knight can also be fought in The True Arena)
Since then, Galacta Knight has appeared in several main series Kirby games as a boss, with his most recent appearance being in Kirby: Planet Robobot. Seems HAL doesn't want to let go of this guy. And I don't really blame them, Galacta Knight is a very cool, unique. and interesting character, and I'm here to argue why he would make a perfect addition to the Super Smash Bros. Crusade roster.
While I realize that Meta Knight has a alt. costume that somewhat resembles Galacta Knight, I feel that simply isn't enough. If you've fought him in any of the titles he appears in, you'll know that Galacta Knight is a very different character than Meta Knight, and that he's certainly no pushover when it comes to difficulty. For, one he uses a lance and shield rather than just a sword. While said lance is generally used like a sword, it still makes a difference. For instance, a lance is significantly heavier than a sword, so I would imagine Galacta Knight's attacks coming out slightly slower than Meta Knight's, but being slightly more powerful. Don't worry though, Galacta Knight will have a unique moveset, which I will get to soon. Before that though, I'll answer a couple questions you may have about this suggestion.
==Why pick Galacta Knight over any other Kirby character?==
From Galacta Knight's appearances in various Kirby games, it's easy to tell that he has potential to be a very unique fighter. Despite seeming like a carbon copy of Meta Knight based off of looks, Galacta Knight's battles say otherwise. You'll see more of what I mean when I get to the moveset portion. As well, other popular picks, such as Bandanna Dee, are just a bit bland compared to Galacta Knight. He may not be as iconic as those other characters, but that doesn't mean that he wouldn't still make a fantastic addition.
==Why pick Galacta Knight if he isn't iconic?==
The amount of unique moves that you have to work with when it comes to Galacta Knight is so big, you couldn't even fit them all into one moveset. I say that characters like Bandanna Dee are bland simply because they don't even come close to being as unique as Galacta Knight. I know I keep saying the word 'unique,' but that's just the only way to describe him.
==Why is Galacta Knight as unique as you say he is?==
There just really isn't anything else like him in the Kirby series. Almost every move he uses is ridiculously different from any other boss, and that's why he would make an amazing Crusade fighter. You say you want every fighter to be unique, well it certainly sounds like Galacta Knight fits the bill there.
Are we done here? Yes? Good. Now for the moment you've all been waiting for, Galacta Knight's moveset and animations. Keep in mind that almost everything that isn't original will be inspired by his boss battles in Super Star Ultra and Planet Robobot. Visual references can also be found at the bottom of the article. Without further ado, here you go!
==Basic Playstyle Description==
True to his origins, Galacta Knight would focus less on combos and racking up damage, and more on the raw power of his individual attacks. As such, a considerable amount of his moves have medium-high knockback or end lag to both enforce his intended playstyle, and discourage spam. Galacta Knight has a lot of a variety, it would be a shame if a few especially powerful moves were the only ones that got used. To balance out the large amounts of knockback, Galacta Knight's attacks generally do low-moderate damage, with a few exceptions of course.
==Basic Character Information==
Size: The body would be about the same size as Meta Knight, but the wings always being out will make a difference.
Weight: I don't really know why, but I always imagine Galacta Knight as being a bit lighter than Meta Knight. Make him heavier if you want, though.
Movement Speed: Definitely faster than Meta Knight. If I had to give a name to the speed I have in mind, I would probably say "Medium-fast".
In addition, he would have the same series icon as all the Kirby characters and the same victory theme as Meta Knight.
==Intro==
I have 2 possible intros in mind.
1) A black sphere appears, and Galacta Knight emerges from it, with his wings and weapons tucked in. When he's completely out of the sphere, he assumes his normal pose, and the black sphere fades. (This is exactly what plays out when Galacta Knight is summoned in front of Meta Knight by NOVA)
2) A pinkish-purplish crystal appears, with Galacta Knight sealed inside. The pink crystal shatters, and Galacta Knight emerges. (In the same cutscene as before, Galacta Knight is shown to be trapped in a crystal after being sealed away. He also becomes trapped in the same crystal when he is defeated in Planet Robobot)
==Basic Animations==
Default: Galacta Knight hovers in the air like he does in Super Star Ultra.
Idle 1: Galacta Knight looks around, seemingly scanning his surroundings. (Original)
Idle 2: Galacta Knight looks at his lance, moving it around slightly, then resumes default position. (Original)
Crouch: Now touching the ground, Galacta Knight ducks his head and folds down his wings. (Original)
Walk: Galacta Knight floats forwards.
Dash: Galacta Knight again floats forwards, although the way he is angled and positioned, it seems much more like a glide now.
Grounded Jump: Galacta Knight simply jumps up in the air with his wings outstretched. (Similar to Meta Knight's)
Aerial Jump: Galacta Knight flaps his wings, sending him higher than he previously was. (Again, similar to Meta Knight's. Galacta Knight also has as many aerial jumps as Meta Knight does)
Shield: Galacta Knight folds his wings back and covers his mask with his shield (His guarding animation from Return to Dream Land and Planet Robobot).
==Basic Attacks==
Jab: Galacta Knight swipes forward with his lance twice (Similar to Meta Knight's basic ground attack in Meta Knightmare Ultra) and then continuously thrusts it forward, creating crescent-shaped energy beams in front of where he thrusts (A move used by Galacta Knight in his original Super Star Ultra battle). This attack would do both medium damage and knockback.
Side/Forward Tilt: Galacta Knight thrusts his lance in front of him (Original). This would do around maybe 6%, but it sends the opponent a considerable distance away, possibly even KOing at very high percents.
Up Tilt: Galacta Knight thrusts his lance upwards (Original). This sends the opponent almost directly up, allowing for a potential aerial follow-up. This attack would deal a medium amount of knockback, so the aforementioned aerial could only be done at earlier percents.
Down Tilt: Galacta Knight swings his lance across the floor (Original). It has low knockback at early percents, scaling to be significantly higher as percent increases, but a small bit of extra end lag so that players won't just spam it to try and trap their opponents. Medium damage, best used for spacing.
Dash Attack: Galacta Knight charges forward with his lance pointed out in front of him (Original). Medium damage, high knockback, but long end lag.
Ledge Attack: Galacta Knight jumps onto the stage and quickly kicks out (Original). Low damage, low knockback.
Getup Attack: Galacta Knight swings his lance on both sides of him as he gets up (Original). Low damage, medium-low knockback.
==Smash Attacks==
Side/Forward Smash: Galacta Knight swings his lance forward, starting above his head this time (Derived from a basic attack he uses in the first phase of his Planet Robobot fight). Medium damage and knockback when uncharged, medium damage and high knockback when fully charged.
Up Smash: Galacta Knight clasps his wings together above his head (Original). This move also has a windbox that sends the opponent upwards. Low damage and medium knockback when uncharged, low damage and medium-high knockback when fully charged.
Down Smash: Galacta Knight thrusts his lance into the ground, causing shockwaves to be sent in either direction (Inspired by a move he uses in his Super Star Ultra fight, except in that game the shockwaves are only sent in a single direction). The size of the shockwaves and the distance they travel would be based on the amount of charge. They're relatively small and don't go too far when uncharged, but at full charge the shockwaves would be slightly taller than Galacta Knight and travel much farther than before. In addition, similarily to the games, the shockwaves would be taller towards the middle of each line. The tallest one at the center of each line would be a powerful sweetspot that deals more damage and knockback, so good spacing is key with this attack. Low damage and medium knockback when uncharged, medium damage and high knockback when fully charged.
==Aerials==
Neutral Air: Galacta Knight spins around with his lance out, creating a circle of damage around him (An attack from Phase 1 of his Planet Robobot fight, but without the shockwave at the end). Low damage, medium-low knockback, and very little end lag. Throw it out if your opponent is pressuring you a lot.
Forward Air: Galacta Knight slashes his lance forward, and bounces off any opponent he hits (An attack used by both Knights in Super Star Ultra). It doesn't do a lot of damage or knockback, but is good for spacing because of the bounce.
Back Air: Galacta Knight turns around and slashes his lance sideways (Original. Also would be similar to Mega Man's back air in SSB4, but with only one slash). Low damage and medium knockback, with a moderate cooldown.
Up Air: Galacta Knight swings his lance above his head (Original, but similar to Meta Knight's up air). Medium-low damage and knockback.
Down Air: Galacta Knight thrusts his lance downward, carrying him towards the ground in the process. Medium damage and medium-high knockback, but a lot of end lag.
==Grab==
Grab: Galacta Knight holds the opponent in his left hand (Original).
Pummel: Galacta Knight jabs the opponent with his lance (Original). Low damage.
Forward Throw: Galacta Knight thrusts his lance into the opponent, sending them flying (Original). Medium-low damage, medium knockback.
Back Throw: Galacta Knight throws the opponent behind him, then hits them away with his wings (Original). Very low damage, high knockback. A good go-to kill option for Galacta Knight.
Up Throw: Galacta Knight throws the opponent above his head, and jabs his lance above his head into them (Original). Medium-low damage, medium-high knockback.
Down Throw: Galacta Knight traps the opponent beneath him using his shield, and repeatedly jabs them with his lance (Original). Medium-high damage, medium knockback.
==Specials==
Neutral Special: Galacta Knight thrusts his shield out, and a Cutter-like beam is shot forward from it (Another of Galacta Knight's attacks). The shield could also absorb any and all attacks from opponents, and every attack blocked powers up the beam. (Suggested by Braystar)
Side Special: Three swords of light appear in front of Galacta Knight and are sent forwards (An attack from his fights in Return to Dream Land and Planet Robobot). However, in Crusade, a sword would disappear if it struck an enemy or surface. When the attack is used, the swords stay still in front of Galacta Knight for a brief moment, and then are sent forwards. If they don't collide with anything first, they can only travel a set distance before disappearing. This attack could be useful for edgeguarding if your opponent is going for a horizontal or high recovery. If this move turns out to be too broken, change the three swords to just one or two swords instead. Each sword would deal medium damage, but not a lot of knockback. And make sure your opponent isn't behind you when you're using this, because you are extremely vulnerable while summoning the swords.
Up Special: Galacta Knight spins his body around like a drill with his lance pointed upwards (Inspired by both kinghts' Mach Tornado animations, since I couldn't find any other attacks to draw inspiration from). It would be like a Mach Tornado, but with significantly less tornado. It still does damage and knockback to any opponent unfortunate enough to get hit by it, but it can't trap opponents like Mach Tornado can. I haven't decided which yet, but it can either have lots of vertical movement with little horizontal control, or vice-versa. Why don't you decide? This move deals medium-low damage and knockback when it hits an opponent.
Down Special: Galacta Knight strikes the ground with his lance, creating a red dot on the ground. This red dot fades after a while, but anyone who steps on it or is slightly above it during that time will be hit by a flame pillar that springs up from it (Inspired by an attack from his Super Star Ultra battle). If Galacta Knight is in the air when using this attack, he will drop to the ground before planting the flame trap, and he is vulnerable while dropping, so this attack is best used when you're already on the ground. The flame pillar itself deals considerable damage and a lot of upward knockback; it will kill at high percents if the opponent is not careful where they tread.
==Taunts==
Taunt 1: Galacta Knight assumes the same pose he does when using his Neutral Special, which is also his signature pose (The same pose as in the picture at the top).
Taunt 2: Galacta Knight drops to the ground and rests for a brief moment before getting right back up (Original).
Taunt 3: Galacta Knight spins around, and then tilts his lance towards the sky (Original).
==Results Screen Poses==
Victory: Galacta Knight once again assumes his aforementined signature pose.
Loss: Galacta Knight crouches down and stares at the ground in defeat (Original).
==Alternate Costumes==
Note: "Armour" includes the mask as well.
1) Regular pink and silver palette.
2) His body and wings become navy blue, his eyes turn yellow, and his feet are now pink (Resembles Meta Knight).
3) His body, wings, and armour become a golden yellow, his feet turn grey, and his eyes are now blue (Resembles NOVA).
4) Green armour, blue body (lighter than palette 2), and yellow feet (Resembles the Blade Knight helper from Super Star Ultra).
5) Purple armour and feet, black body, and yellow eyes (Resembles the Sword Knight helper from Super Star Ultra).
6) Light purple armour and body, brown feet and magenta wings (Resembles Marx Soul from Super Star Ultra).
7) Black body, wings and shoulder pads, red feet and yellow eyes (Resembles Dark Meta Knight from Amazing Mirror).
8.) White body and wings, black armour, and yellow eyes (Original.)
And now, last but certainly not least...
==FINAL SMASH==
Galacta Knight quickly flies above the screen, and then floats back down, now hovering in the air at the center of the stage. During this animation, the player can choose to input a direction with the arrow keys/left stick. When Galacta Knight reaches the center, one of 4 unique Final Smashes will come out depending on the button pressed. Pressing no buttons at all will make Galacta Knight use Revolution Beam, pressing up will cause Knight Beam Rain, pressing down will activate Lightning Columns, and pressing left or right will cause Dimensional Rip. Visual references for all these attacks can be found below. (This was also modified from a suggestion by Braystar)
==Visual References==
(Sorry for any bad image quality)
NOVA:
Blade Knight:
Sword Knight:
Marx Soul:
Dark Meta Knight:
Intro 1 Inspiration:
Intro 2 Inspiration:
Default Standing Animation:
Guarding Animation:
Jab Inspiration:
Side Smash Inspiration:
Down Smash Inspiration:
Neutral Air Inspiration:
Down Air Inspiration:
Side Special Inspiration:
Down Special Inspiration:
Final Smash Inspiration:
Revolution Beam:
Knight Beam Rain:
Lightning Columns:
Dimensional Rip:
==Supporters==
Supporters (:
This took me a very long time to make, I hope it's good!