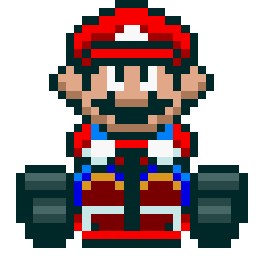 Debut: Super Mario Kart (1992)
Most Recent Appearance: Mario Kart 8 (2014)
My Reasoning:
Now, there have been a lot of threads here for additional Mario characters and alternate forms of Mario, and I understand that there's a good chance that you rolled your eyes when you saw another one, but let me try to justify this.
1.
Mario Kart is a popular series, and is unique enough to almost be a stand-alone series: Being the 12th Best-Selling Video Game series of all time, (The best if you count it under the Mario Series) I think it's safe to say that based on popularity, the series could use a rep to call it's own. Sure, we have the Mario Kart stages in Brawl and Smash Wii U/3DS, and Mario himself is obviously a character, but there are no "Mario Kart Characters" in Smash. I mean, sure, this is a spinoff series, and no spinoff series, and this technically still is Mario, but I feel like the pure fame of this series, even apart from the Mario Series, is enough to separate the two. Somebody can like the Mario Kart series without really being a fan of the Mario series.
2.
The character can be incredibly unique: Now, as much as I definitely don't think a character being unique is enough to justify them getting in Smash if they don't have much else going for them, but I definitely think that a character being unique and able to appeal to fans of their series is very important. And trust me, with this moveset, this character will be very unique, and will definitely capture the wacky, crazy nature of the Mario Kart series.
So, now onto that moveset!
1. Basic Description:
- Kart Mario is in his Kart the whole time. We have characters like Wario and Mach Rider use vehicles for certain moves, but Kart Mario would be the first character to be in a vehicle all the time. As for which Kart design we use, I recommend we use the Pipe frame, seeing how it's the most iconic and has been in the most games (SNES, 64, GBA, 7,

. But don't worry, all Mario Kart series will be represented in some way.
- The character would be fast, he is in a car after all, but he would also be heavy. I also think that Luigi-esque traction would be a neat addition, seeing as you don't just turn around/stop on a dime when you're in any sort of vehicle.
2. Misc. Animations
- Entrance: Flies in on the glider from MK7/8. Similar to Falcon/Fox/Falco's entry animations.
- Walk/Run: Drives slowly for walk, drives faster for run.
3. Neutral Moves
- Jab: I honestly couldn't think of something for this one without using up any of my ideas for other moves
- Down Tilt: Does a quick 360 in-place on the ground, sending out a trail of smoke in front of him. Both the smoke and the back of the Kart (while it's facing the front) have hitboxes.
- Forward Tilt: Tanooki tail from Mario Kart 7. Does a quick swipe of the tail in front of him.
- Up Tilt: Does a more "attack" version of his victory wave from Mario Kart 8:
https://www.youtube.com/watch?v=vKlBMAQ05Wg
. Swings his hand a bit more "above" his head so it covers more ground. I'll accept other suggestions though.
- Dash attack: Like Down Tilt, only he slides while doing the 360, and without the smoke trail.
4. Aerials
- These are some of his stunts from Mario Kart 8. Image for reference here:
mediafire.com view/glckg51l8aowaab/Kart_Mario%27s_Ariels.png
- U-Air: No hitbox/hurtbox on Kart. Mario spins around while doing this punch. Juggles, doesn't kill.
- B-Air: No hitbox/hurtbox on Kart. Regular Back-Air, doesn't kill
- N-Air: No hitbox/hurtbox on Kart. Multi-hitting move where Mario spins around with a final strong hit that can kill at high percents.
- D-Air: Two separate hitboxes. Mario's legs do a bit of damage and send the opponent a bit up, while the Kart itself spikes the opponent.
- F-Air: No hitbox/hurtbox on Kart. Leans a bit more forward than what you see in the picture. Hand grows kind of like in Mario's jab/F-Air/64 F-Smash. Kill Move.
5. Smash Attacks
- Down Smash: POW Block. Throws a POW Block onto the ground. Does damage around him, kinda like DK's Down B.
- Forward Smash: Fake-Item-Box. Shoves a Fake-Item-Box in front of him. Does an electrical-stun like ZSS's Down Smash.
- Up Smash: Super Horn. Mario holds a Super Horn above his head. Takes priority over any projectile. Kind of similar to Shadow's Up-Smash, only with a bigger hitbox, and a bit more above him.
6. Specials
- Neutral Special: Standstill Mini-Turbo. In some of the Mario Kart games, when you're character is at a standstill, you're character can charge a drift. This move works kinda like Jiggs' rollout, Pac Side-B, spindash, etc. This move has three charge levels. Level one is essentially useless and he barely goes anywhere. Level two is a blue Mini-Turbo; he goes medium speed and damages opponents on contact. He can turn around, and also can cancel with a jump, like Kirby's wheelie ability. Level three is an orange Mini-Turbo; goes very fast and is a reliable kill move. He can turn around, but can't cancel with a jump. However, you can JUMP, but you'll still be in the move, and can't use any other attacks.
- Side Special: Glider. Works like Pit's Brawl Side B where he glides forward. He can turn around while in glide (PM Knuckles) but can't go up or down. The glider has a hitbox, about as powerful as Waluigi's Glide attack, while the Kart has a hitbox that does a little bit of hitstun, but nothing major.
- Up Special: Feather from Super Mario Kart. Flies in the air while spinning around, and comes down with a spike if he doesn't grab ledge. Similar to DDD.
- Down Special (Where things get good): Item Box. Mario can get one of the following items. Items are organized into "tiers". The higher "tier" the item is, the less likely you are to pull it. All of these items can be held in your hand like traditional items.
Super Common Tier (50%)
1. Banana (100%): The general banana's from the Smash series. Can only have one out at a time. If you pull one while having one out, the other one will disappear as soon as you throw the new one.
Pretty Common Tier (25%)
2. Coins (50%): Makes you faster and more mobile for a short period of time. Moves also come out faster. Press the attack button to activate it. Item can also be throw, damaging opponents that it hits, but can also be caught and used by opponents.
3. Fireballs (50%): Once the fireball is used once, you will be able to spam fireballs for a short amount of time. Fireballs come out fast, like Fox lasers, but inflict small amounts of hitstun.
Uncommon Tier (8%)
4. Triple Bananas (100%): While Mario can normally only have one banana on stage at a time, this item allows him to have three.
Rare Tier (15%, it's only a larger percent than uncommon because there are more items)
5. Green Shell (75%): Works like the Green Shell item which is already in game.
6. Red Shell (25%): A bit rarer, but still rare teir. Works like the Red Shell item which is already in game.
Stitch/Bomb-Type Teir (2%)
7. (Mega) Mushroom (50%): Works like the regular mushroom item. Has a different sprite to match the Mega Mushroom from NSMB/MKWii.
8. Lightning (16.7%): Works like the lightning item in SSB4, essentially poison-mushrooming all opponents.
9. Bob-Omb (16.7%): Works like the Bob-Omb item in the Smash Bros. series.
10. Blue Shell (16.7%): A more powerfull Bob-Omb that homes onto the opponent with the highest score/most stocks/least percent. (If the user is in first, then it goes to the second placed player)
When you're in last place, the odds of you pulling a SBT Teir goes from 2 to 5. Rare goes from 15 to 20, Uncommon goes from 8 to 13, PC goes from 25 to 30.
7. Grab/Throws
Piranha Plant from MK8. Bites, throws in all four directions. High start-up and end-lag like most extended grabs. Cannot be used in the air as a Z-Air.
8. Final Smash
Crazy 8. Like the Crazy 8 from Mario Kart 8, but it works a bit different.
-Star: Makes Mario invincible (Applies itself as soon as the Final Smash is activated, lasts for a bit less time than usual)
-Mushroom: Makes Mario 200% Size. (Applies itself as soon as the Final Smash is activated, lasts for a bit less time than usual)
-Coin: Gives Mario the same speed buff as it usually would. (Applies itself as soon as the Final Smash is activated, lasts for a bit less time than usual)
-Blue Shell, Bob-Omb, Banana, Green Shell, and Red Shell are all in a line that can be shuffled by pressing Down-B.
9. Taunt
If somebody can think of a better Up-Tilt option, then I think that the wave wood be a good taunt. If not, then the peace/victory sign from SMK would also be pretty cool:
https://www.youtube.com/watch?v=4SrEzsLvItE
10. Victory Animation
Maybe this, also from SMK:
https://www.youtube.com/watch?v=hHbe2Z4tcSA
. As for the music, I think it should either be the one from MK8 or the regular  Mario theme. If somebody could find/make an HQ version of the SMK victory theme, then we could use that, but if not, then we should just use one of the above two because in general I don't like the idea of using obsolete music.
Conclusion
So, yeah, that's my moveset for Kart Mario! This is the first moveset I've ever made for a character, and I think it's pretty good. Captures the crazy random nature of the Mario Kart games. I feel like if we have to choose one "other Mario", I feel like this is the way to go. Paper Mario might be a better choice, seeing as he's a combat oriented character and is definitely much more "logical" in that sense, but considering the popularity and even notoriety of the Mario Kart series, I feel like this series deserves a unique rep.