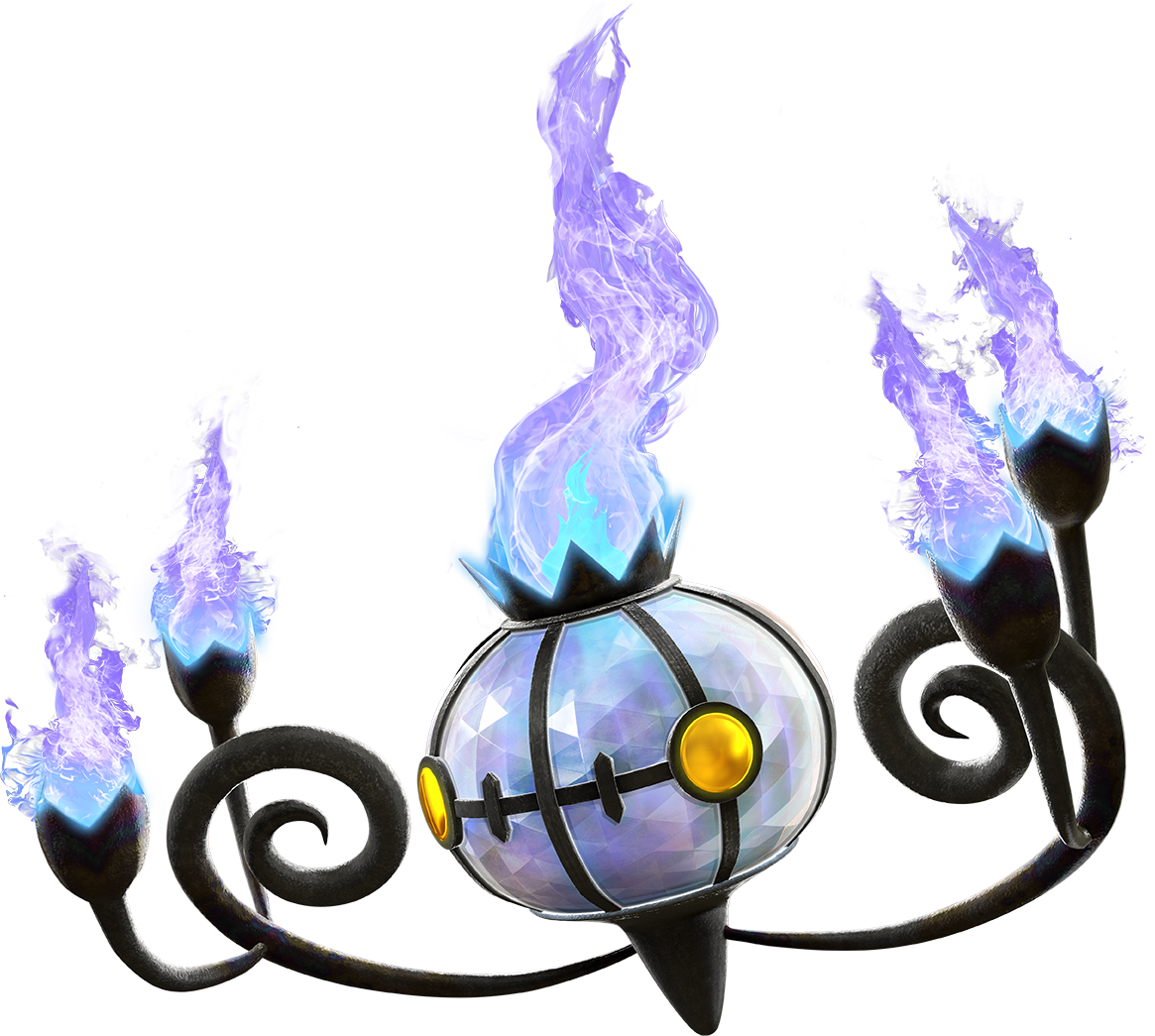 Chandelure
is one of the many kinds of Pokemon you can find. It is rather infamous for being one of the Pokemon based on a man-made object instead of a real life animal. Whether you like it or not, these kinds of Pokemon are a running theme in every Pokemon game. Magnemite is based on magnets, Klefki is based on a key ring, Klink is gears, and there are a handful more like them.
Also
Chandelure
is popular in Japan.

Moveset
WIP
Jab:
Chandelure
bends over, his fire becomes stronger, and he rises up with a great slash of his strong fire.
Side Tilt: "Punches" with his candlesticks.
Up Tilt: Spins around on one "arm" and slashes with the other upward.
Down Tilt: Shoots fire with one of it's "arms."
Dash Attack: Slides on the ground.
Side Smash: His candlesticks become comparable to swords and slashes. If you press the attack button again, you do another slash similar to Link's side smash.
Up Smash:
Chandelure
's Fire becomes more powerful. Comparable to Villager's up smash from Smash 4.
Down Smash: Spins around with a strong fire.
Neutral Aerial: Spins around as if it were a top.
Forward Aerial: Stops for a moment, then spins around like a wheel.
Back Aerial: Teeters backwards while his fire becomes very strong for a moment sending him forward.
Up Aerial:
Chandelure
's fire explodes. Similar to Ivysaur's up aerial from Brawl.
Down Aerial: Slams to the ground.
Neutral Special: "Will-O-Wisp"-
Chandelure
summons a wisp in front of him. What direction it will go depends on what direction you press after you summoned it up. It accelerates over time. When the attack lands, the opponent's attack stat goes down for a short bit.
Side Special: "Confuse Ray"-
Chandelure
summons a strange ball of light. It slowly spins while moving forward. If it hits an opponent, they will become confused as if their shield just broke.
Up Special: (No name yet)-
Chandelure
summons a rope for him to hang from. You can use another jump to get a better recovery, or use an aerial attack.
Down Special: "Hex"-
Chandelure
summons a purple wave of magic. The move does a ton of damage if the opponent is confused or asleep.
Final Smash: "Final Flicker"-
Chandelure
has a small area around him that spins around. If anyone is caught in that area, they fade away with only a Will-O-Wisp left. Then the Wisp goes out as if a it were a candle being blown.
Supporters
Kzinssie
Lego Shaq
SS_Maeweather
DestinyIntwined
wheeled_tank
VultureDuck
TrinitroMan
Braystar