Before you read below, I would just like to say a few things:
1.Most of the active people in the
Big Network
are English.
2.I'm not a developer for Hamachi or Crusade.
3.Try to come visit the network chat (if you're in the big network) once in a while! It's always nice to see a new/returning challenger.
4. This is as short and as detailed as I can get.
5. If you don't have Hamachi installed, go
here.


Learning Colors and Identifying Ping


Before you start online play, you should know these dots that are different colors next to names first.
If you see a green dot, this means that the player can be connected to in a game. If the player can not connect to you, or vise versa, you need to turn off your firewall first. No promises for no lag!
If you see a blue dot, that is a relayed tunnel. You can still play and connect, but it will be extremely laggy.
If you see a red dot, it's a blocked relayed tunnel. You can't connect to people that have this, sadly.
Now for Ping. If you don't know what Ping is, it's just a way to tell how strong is the connection between you and another player. It relies mostly on Internet speed, how fast your PC is, and location. A high ping (110+ ms) is usually quite laggy while a low ping (90 ms or below) could be fast. Playing with a player with a high ping will delay your button inputs or decrease game FPS. If a player has a ping of 'n/a', then that would be the same as if you were playing with someone with a high ping.


IP Addresses and Connecting/Hosting

Look to the right side of a name, and you will find a IP address. This is what you'll be using to connect to a room. When a person hosts, look down at the network list and find their name. Right click, and then click "Copy IP4 address". Go on Crusade, go to Online and then Join. Hold down Control (Ctrl) and V to paste the IP, and press Enter. You'll soon will be connecting to a room.
Hosting yourself is quite easy. Just click the Host button! Remember to tell other players your IP too.
This is all you need to know about playing online on Crusade! Now for the extras.
Too many offline people in the network? Click System (above your name and IP on the top of the window) and go to system preferences. A window should appear. Click on settings, and check "Hide offline network members".
Want to see everyone's ping all at once? Click on advanced settings, and below Interface Settings, there should be something called a "Custom format". Click on that, and then "Set..." Copy paste this in the "When Connected" box without quotation marks: "$NICK - $IP - $PING" Click Set again.
Want to turn off chat sound notifications? (not recommended if you like to chat with people) In advanced settings, go down to "Chat Settings", and click on "Play a sound when new IM arrives". Click "No".
Here's the fun part. Changing the color of the chat!
Go down to "Chat Colors" in advanced settings, and click on anything to change the color of it. Here's a preview of mine.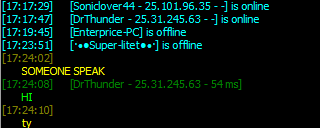 Feel free to add or suggest anything to help improve this.