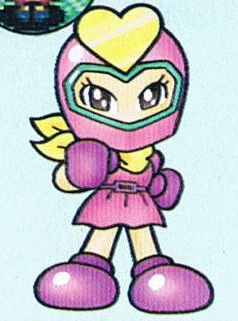 Pretty Bomber is a recurring villain (Sometimes allie) in the Bomberman series. She is the only female member of the Five Dastardly Bombers as well as the World Bombers. She was originally one of the first main antagonists of the series, but was later depicted as a friend and even love interest of Bomberman.
Why should it be included?
She is the most recurring character of the franchise after obviously White Bomberman & Black Bomberman, Sometimes she is treated like a villain or the love interest of Bomberman, and I feel that Bomberman needs another representative to cover the role of the villains and to use the different harmful items of the franchise like the Skull
In addition Bomberman has been a franchise very close to Nintendo, having lots of games on almost all their consoles, crossovers with their characters in video games, mangas, comics, etc
Game appearances

Super Bomberman 2
Bomberman: Panic Bomber
Super Bomberman - Panic Bomber W
Super Bomberman 3
Panic Bomber
Bomberman GB 2
Bomberman B-Daman
Neo Bomberman
Bomberman Fantasy Race
Bomberman Party Edition
Bomberman Land
Bomberman Tournament
Bomberman Kart
Bomberman 64
Bomberman Land 2
Bomberman Kart DX
Bomberman Hardball
Bomberman Land 3
Bomberman Land Touch!
Bomberman Land Wii
Bomberman Land Portable
Bomberman Land Touch! 2
Super Bomberman R
Moveset
Specials
Neutral Special (Hearth Bombs): Pretty throws up to four bombs that move randomly on the floor, if they connect with an opponent they explode creating a small pink fire cross, Pretty can also be damaged by explosions
Origin: In Super Bomberman 2 Pretty uses this attack to kill bomberman creating a chaos of explosions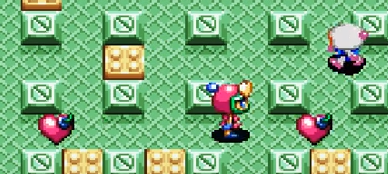 Up Special: Pretty floats on a kind of blue duck like in Neo Bomberman's ending, she can move freely for a short period of time, then she will fall into a helpess state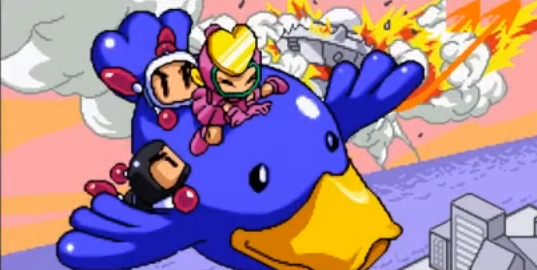 Side Special: Pretty throws a Skull that will bring different effects to whoever touches it, including herself (The Skull will stay on stage for a while and then disappear)
*The effects last about 3 seconds and these can be:
*The enemy speed increase.
*The enemy speed decrease.
*The attacks of the opponent become weaker.
*Poison effect.
If you spams this attack, it can be counterproductive as it will do great harm to the user
Origin: The Skull item is a recurring item in the Bomberman series. It gives the player one of a set of negative effects.
Down Special(Karaoke Bomb): Pretty put a bomb on the ground, that explodes when it passes near an enemy, This can be thrown but only by the user
Origin: Is The Special Abilitie of Pretty and her alter ego Sexy Bomber in Super Bomberman R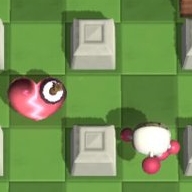 Smash Final (PrettyBalloon): Pretty merges with Pommy Sea, And forms a kind of pink octopus
She moves slowly around the stage and attacks the enemies with their tentacles and can shoot a kind of projectiles through them
Origin: She uses this in her boss battle in Bomberman Tournament in much the same way as described above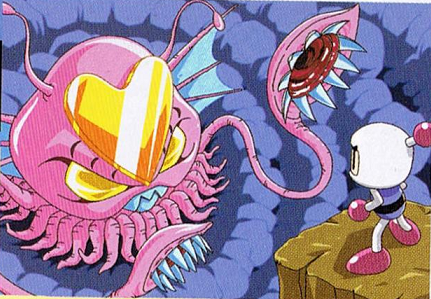 Smash Attacks
Side Smash: Pretty equips herself a pair of boxing gloves and strikes hard forward
Up Smash: Pretty does an uppercut that ends in an explosion of hearts
Down Smash: Pretty hits the floor with her two hands similar to Bomberman
Normal Attacks
Jab:Pretty hits with two punches followed by a headbutt and a kick
Side Tilt: Pretty uses both her hands to give a push
Up Tilt: Pretty hits with a head butt up
Down Tilt: Pretty punch while crouching
Aerials
Nair:Pretty hits with a simple kick
Uair:Pretty throws a gift to the air, which is actually an explosive that explodes on contact
Dair: Pretty throws a block down, which works like Megaman's Dair
Fair:Pretty pushes with her hands forward
Bair:Pretty hits with a punch back
Grabs/Throws
Pummel:Pretty kicks his opponent in the ankle
Forward Throw: Pretty pushes the opponent
Down Throw: Pretty throws the opponent to the floor and then steps on it
Back Throw:Pretty performs a monkey flip throw
Up Throw:Pretty throws the opponent up
Misc
Float: Yes
Dash Attack:Pretty uses some skates to ram the opponent
Taunt: Pretty puts her finger on her lower eyelid as in the next image
Win: Pretty puts her hand in her mouth and sends a kiss to the camera
Lose:As in Panic Bomber, Pretty is kneeling and with dirty clothes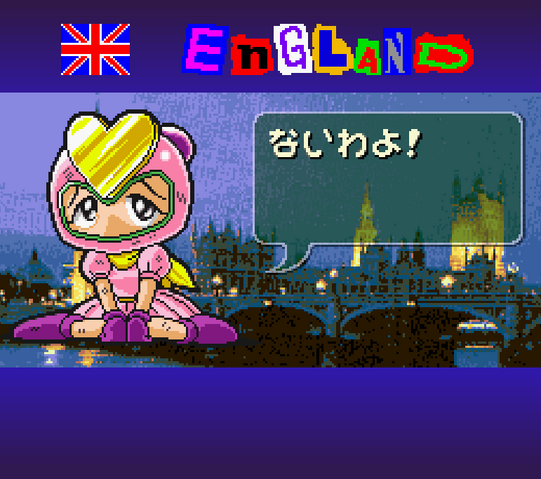 I'm still working on her moveset, but this is a basic idea of how she would work,
She plays better at a distance and causing great damage and diferent effects to her opponents