KOS-MOS is one of the main protagonist of the
Xenosaga
sub-series of the wider
Xeno
series.  
http://xenosaga.wikia.com/wiki/KOS-MOS
https://en.wikipedia.org/wiki/KOS-MOS
https://en.wikipedia.org/wiki/Xeno_(series)
https://en.wikipedia.org/wiki/Xenosaga
She herself debuted in
Xenosaga Episode I
.
https://en.wikipedia.org/wiki/Xenosaga_Episode_I
http://xenosaga.wikia.com/wiki/Xenosaga_Episode_I:_Der_Wille_zur_Macht
She has appeared in
Xenosaga Episode I: Der Wille zur Macht
,
Xenosaga Episode II: Jenseits von Gut und Böse
,
Xenosaga Episode III: Also Sprach Zarathustra
, and
Xenoblade Chronicles 2
.  She has appeared in other games such as Baten Kaitos: Eternal Wings and the Lost Ocean,  Soulcalibur III, many Tales games,  Namco × Capcom,  Super Robot Taisen OG Saga: Endless Frontier,  Endless Frontier EXCEED, Project X Zone, Project X Zone 2, etc.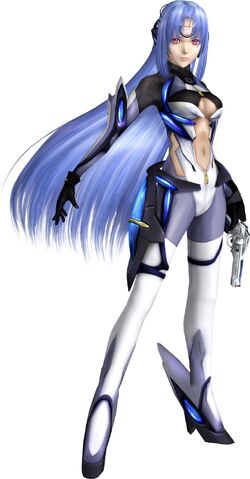 She is an armored android robot combat weapon with an artificial intelligence to fight the Gnosis.
KOS-MOS' design is intended to reflect a reverse view of human construction. Human characters are often depicted as having a strong will in a fragile body of flesh and blood. KOS-MOS is a complement to it by having a delicate personality in an unbreakable vessel.
KOS-MOS was also built as a prototype for T-elos for the purpose of "Eternal Recurrence", and to monitor Shion. T-elos was intended to be the vessel and resurrection of Mary Magdalene, the partner of Jesus Christ. In other words, Kevin told Shion that KOS-MOS would be humanity's savior, but Kevin meant humanity would be saved through their extinction and death. She is a very heavy fighter, and has massive attack power that covers close and long range.
She is capable of using many weapons such as Blades, swords, cannons, Gatling guns, drills, beams, sabers, pistols and much more.. if they exist, she can use them.
She can summon them by phase transfer.
Spoiler:
KOS-MOS is gifted with phenomenal strength and haste as part of her function to fight and destroy the Gnosis. Her body is formed from highly advanced nanomachines that allows her to transform parts of her body (specifically her arms) into various energy projectile and melee weapons. Her body is also able to self-repair and is very durable but not indestructible and she is also sheltered by a force-shield. She also possesses the ability to call various weapons from compressed space.
Some of her moves are
Spoiler:
Outfits can be
Spoiler:
KOS-MOS music themes:
Spoiler:
Her moveset can be:
Spoiler:
Her idle animations or taunts can be
Spoiler:
Her victory animation should be:
You can watch her in action in
Xenoblade 2
here:
Spoiler: