So I've been messing around with the 62 characters and talking about it on the Discord, and I recently came up with this. Please keep in mind this is my very own opinion, and if you disagree with something on the list, please let me know so than I can be as close to the truth as possible.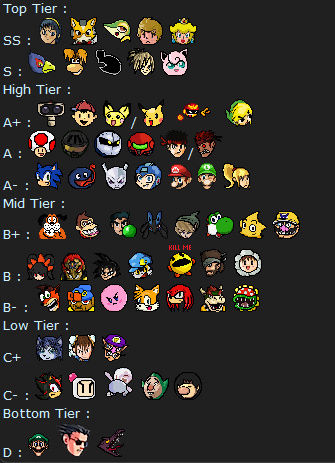 Here's my reasoning behind tiers :
Top tiers are the incontested ten best characters in the game, due to many differents reasons (movement, combos, killpower, chaingrabs...). Pretty much solo mainable.
High tiers are characters than can definitely be a big thread if you don't know the match-up and they can deal with top tiers decently well. They can be solo mainable or with a little secondary players can go far with these characters.
Mid tiers are characters that are "honest" : they have their big strengths but they also have exploitable weaknesses by some characters in the cast. They can take the role of a secondary really well and can deal with some higher characters decently well.
Low tiers have their strenghts, but their weaknesses are too polarizing to let them be viable. They can deal with some highers characters really well, though. They're pretty much niche characters.
Bottom tiers are characters that can't show their strength because they're just bad in general. No clear strength, but extremely clear weaknesses (speed, size...), being the most abused characters in the game.
What do you all think ?