The Phantom Train is a location in Final Fantasy VI. It is deep inside the Phantom Forest and it also brings the dead people to heaven. Because of that there are severel ghosts inside it, some of them want to fight you, some join you party and other ones will give you food.
The reason I want to have this stage is because it has a memorable scenery which I think fits into Crusade. It is also a very popular place, because of the boss there and the "Suplex" meme.
My stage design is this: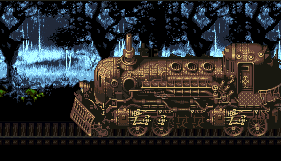 It could also have more carriages or it could play in the inside, but I chose it outside because it is more known.
Music would be (a Remix of) "Phantom Train", "The Battle" or " The Decisive Battle".
Spoiler:
Tell me what you think about it!