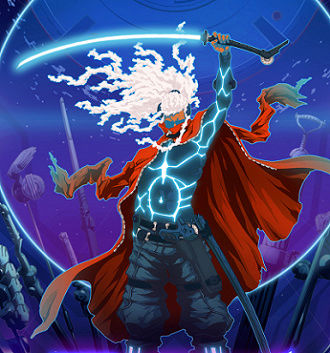 Disclaimer: this character has no Nintendo relevance. The game he's from is very recent, and while it's been very well received, it isn't a massive hit. I'm very aware that there's little reason to include him. I still think he's got really interesting potential and would be a fun character.
Furi is a recent indie game for PC and PS4. The gameplay alternates between top-down twin-stick shooting and third-person hack-n'-slashing. Rather than mash through hordes of cannon fodder, however, the player will only face 10 increasingly intense bosses, each with several stages. Every aspect of the relatively simple gameplay is present from the start; the only thing that's changed by the end is the player's skill. Besides smooth, solid gameplay, the game boasts a fantastic soundtrack, a bright, neon, cyberpunk art style, and an intriguing, well-told story that pieces itself together slowly, building up to something the player may start to suspect halfway through.
Rider himself is an enigmatic man who was imprisoned in a complex orbital prison for reasons I can't say without spoiling the game. In fact, I can't really say anything about who Rider really is without spoiling the story. Suffice it to say that he's silent, unkillable, and extremely dangerous. He wields a high-tech katana and an energy pistol, in addition to his glowing, form-fitting armor
Furi's gameplay is all about precision and timing. In Crusade, Rider would be a total glass cannon: fast, with superb mobility, and able to rack up huge damage, but taking far more damage himself than most characters. This is somewhat compensated for by his Neutral Special, but in order to make use of that, the player will need to be patient, attentive, and quick.
Jab/Combo:
Rider slashes with his blade, first sideways, then upwards, and finally he hops up slightly to bring the blade down in a swift overhead slice.
Side Tilt:
Rider fires a shot from his energy pistol. The shots do little damage, no knockback, and their rate of fire caps out.
Up Tilt:
Rider jumps and performs a fast kick upwards, followed by a light slash with his blade.
Down Tilt:
Rider forward-flips in place and brings his foot slamming down just in front of him.
Forward Smash:
Rider holds still with a hand on his sheathed blade and charges up. His armor glows blue while doing this, up to the brightest shade, and crackling electricity starts arcing around him. When the button is released, he dashes forward and delivers a powerful slash.
Up Smash:
Rider kneels with a hand on his sheathed blade, and starts charging. When he rises, he brings a knee up, potentially knocking an opponent into the air with him, and leaps straight up to perform a powerful arcing slice with his katana. If the player charges fully (the armor glows the brightest blue and flashes) the attack will do much more damage and be carried out incredibly fast.
Down Smash:
Rider charges up his energy pistol before firing it into the ground directly below him. If the shot isn't fully charged (the gun's glow is blue), three balls of energy will be launched from the ground in an arc. The balls are blue and can be destroyed by getting hit with an attack once, but do decent damage if they hit an opponent. If the shot is fully charged (the gun glows orange), five balls of energy will be launched, along with short shockwaves. The energy balls are orange, do more damage, and take more damage to be destroyed. If the balls aren't destroyed, they will continue on to the blast zones and disappear offscreen.
Neutral Special:
Rider parries with his blade. A successful parry will make Rider's armor glow green briefly and restore a small amount of his damage percentage. The parry lasts for less than a second, however, meaning the player must time it perfectly to pull it off. Unlike a normal block, the parry actually stops any single attack, including a Falcon Punch, or a single projectile, but it won't be effective against attacks with multiple hits, such as Bowser's flame breath or any beam attack that lasts more than a second.
Side Special:
Rider dashes forward at such speed that he's essentially teleporting and leaving blue lines in his wake. This does no damage in and of itself, but it can be used to escape tricky situations and set up attack combos. It also passes through opponents and attacks. The distance is determined by how brightly Rider's armor is glowing blue. At no glow, Rider can only jut forward a little bit. There are three shades of increasing brightness, corresponding to how far he dashes. The armor starts glowing when Rider successfully hits an enemy, and gets brighter when he lands another hit, up to the third shade of blue. When Rider is hit, however, the glow disappears completely. Any time Rider dashes, including dash-based attacks, he is susceptible to falling off ledges, but isn't left helpless.
Down Special:
Rider holds still with a hand on his sheathed blade and charges up. His armor starts glowing orange, with electricity crackling around him. Once he's finished, he flashes, and can move freely again, with his armor staying orange. His next attack, whatever it is, will be boosted greatly in damage and will dash in the direction of the attack. Being hit while glowing orange will remove the effect. Forward Smash or any projectile-based attack will cancel it.
Up Special/Recovery:
Rider aims down with his energy pistol and starts charging a shot. A blue targeting line will extend from the pistol. When the line turns orange and Rider flashes, the pistol is fully charged. Firing will launch Rider up into the air. The player can either fire three times with no charge, and get subsequently less air, or fire a single charged shot. Three normal shots or one charged shot will leave Rider helpless.
Neutral Air:
Rider parries mid-air. The parry works the same as on the ground.
Forward Air:
Rider slices downward with his blade.
Backward Air:
Rider quickly fires a burst of three consecutive shots behind him with his energy pistol.
Up Air:
Rider thrusts his blade straight up for a short moment. Spikes at the tip.
Down Air:
Rider fires a spray of shots down with his energy pistol.
Grab:
Rider slams the hilt of his blade into an opponent and grabs them with his spare hand.
Forward Throw:
Rider dashes a short ways forward and throws the opponent when he stops.
Backward Throw:
Rider rolls backward and kicks the opponent hard.
Up Throw:
Rider slices up with his blade, rising into the air slightly.
Down Throw:
Rider holds the opponent down and fires a blast with his energy pistol into them.
Pummel:
Rider fires his energy pistol into the opponent repeatedly.
Dash:
Rider dashes a short distance with his blade held out sideways in front of him.
Taunt:
Rider flourishes his blade and sheathes it.

Final Smash: Perfect Parry & ExoSuit
To initiate the Final Smash, the player must successfully pull off a parry. The window for this parry is twice as long as normal. Parrying will cause Rider to hit the parried opponent with a powerful string of slashes before leaping into the air and donning his red, mech-like ExoSuit. If Rider parried a projectile, he will teleport to the opponent who fired/threw it and initiate the slashes. In the ExoSuit, damage is reduced, and Neutral Special will still parry. All other attacks will be a rapid series of energy blasts that do very little initial knockback and slightly more damage than the energy pistol, but fire extremely fast and continuously. Eventually, Rider will stop being able to fire, and will start glowing. Once the glowing stops and the ExoSuit flashes, Rider will unleash a kamehameha-esque beam of energy that goes to the blast zones. The ExoSuit disappears, and Rider's cape returns.
Visual Feature:
When Rider's percentage goes over 75%, his armor starts to glow red, except for when he parries and heals, or when he charges up a dash or attack.