[PROTOTYPE] is an open world sandbox game series for the PC, PS3, and Xbox 360 that revolves around the character of Alexander "Alex" J Mercer, otherwise known as "The Prototype."
Backstory:
Alex was a 30-year old scientist for Gentek and head of the Blacklight team, tasked with creating weaponized viruses using samples given to them by the government. With Mercer's Help, the team soon created a particularly potent virus codenamed "Blacklight." Despite his successes, Mercer was considered a potential liability by Blackwatch, an elite army created to combat exotic threats, and congress proposed an investigation. When he learned that a general purge was about to be unleashed upon the Gentek scientists, Mercer fled, fearing for his life. In the event he was caught, Mercer had smuggled a vial of the Blacklight virus out of quarantine and taken it with him. But Blackwatch was too quick for him. While attempting to escape the city by train, Mercer was cornered in Penn Station by Blackwatch agents. In a fit of frustration and rage, he threw the vial to the floor, smashing it and unleashing a biological apocalypse. He was promptly shot by Blackwatch operatives. As he fell, he collapsed onto the viral sample, becoming infected as he died. His body was taken back to Gentek in a body bag. Little did they know, as he was transported, the virus was reconstructing Mercer's body, cell by cell; his biomass feeding the virus as it replicated the still-living matter it had infected.
Biology:
(For a general description of the character, see above images)
As a result of being infected, Mercer has obtained super human speed, strength, and the ability to consume and replicate powers. the 6 main powers he uses are:
Hammerfists: Gives Mercer giant, heavy fists
Shield: Exactly what it sounds like
Claws: Gives Mercer Razor-Like Claws
Sword: Turns his arm into a large blade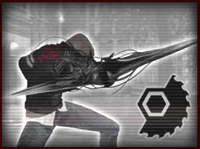 Tendrils: An ability used by James Heller in [PROTOTYPE2] Which Gives him gripping tendrils that can draw in objects, and is also a Waifu's worst nightmare.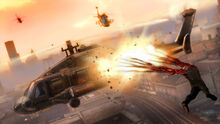 Whipfist: A Grappling Hook/Razor ability
Animations: (Some basic animations are borrowed from other characters)
Idle: Snake's idle in Brawl
Grab: Longshot Grab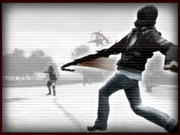 Run:(Mercer has the ability to run on walls) Run/Wall run
Taunt: He yells an insult. That's it.
Jump: (Highest Ground Jump in Game)
Shield: Shield power above.
Attacks:
Jab: Punch, Punch, Kick
F Smash: Heavy Kick
U Smash: Blade Air Slice: An aerial drop attack, Alex falls with a bit of a spin to enhance the slicing capabilities of the Blade.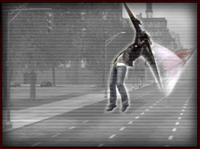 D Smash: Groundspike (Claw attack)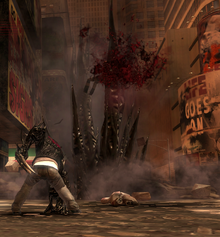 Dash: Dashing Slice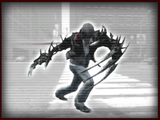 F Tilt: Street Sweeper (Whipfist attack, long range)
U Tilt: Uses whipfist like ZSS uses her up B on the ground
D Tilt: Hammerfist Elbow Slam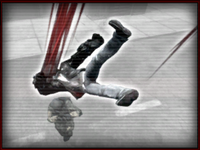 Aerial Attacks: Just Basic air attacks with Blade and Claw.
N Special: Consume: Grabs an opponent and consumes their powers, temporarily giving Mercer their Special Attacks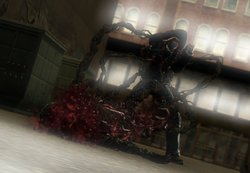 S Special: Tendril Black Hole: Sends tendrils forward at enemies, if it connects, the opponent is stuck, smaller tendrils shoot out and grab nearby opponents and items, and pulls them towards the trapped enemy to deal damage.
U Special: Charge Jump.
D Special: Blade Tornado
Final Smash: Tendril Barrage Devastator