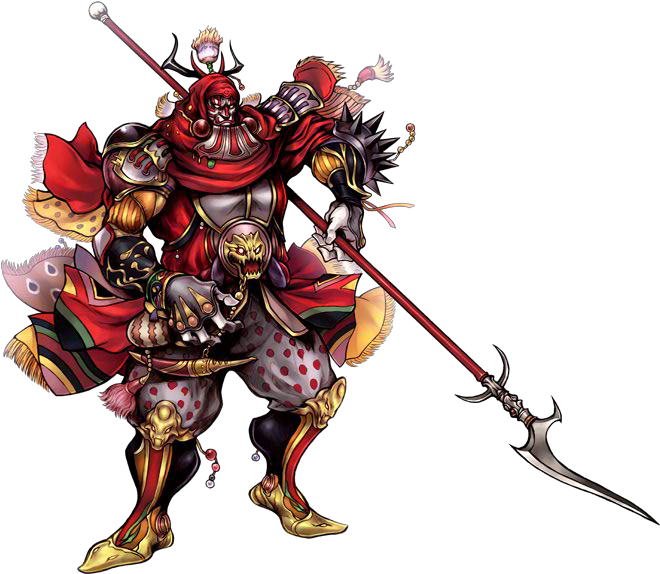 IT'S MORPHIN' TIME!
Gilgamesh is a character from Final Faantasy who has appeared in almost all of the games. He may look goofy on the outside but Gilgamesh himself once destroyed an entire army. Later in the series Gilgamesh grew more and more arms out of nowhere even when not in his true form. But I'll be using his most balanced form with two arms.
Gilgamesh has a special type of passive, he randomly switched through his weapons with every new melee attack. The weapons and their special abilities are as follows:
Excalibur - All damage dealt is doubled.
Excalipoor - All damage is reduced to 1.
Naginata - Attack has greater range.
Masamune - Long range but shorter than Naginata, generates more % on hit, 75% normal knockback.
Genji Blade - Depletes the opponent's smash gauge with each hit. 75% normal damage.
Zantetsuken - Has a low chance of inflicting 250% damage and 150% knockback instantly when attacking.
Battle Axe - Attack does random damage, from 25% to 175% normal damage.
Chicken Knife - The higher Gilgamesh's %, the higher the damage done, from normal damage at 0% to 220% damage at 300%.
Neutral Normal:
Dual Thrust: Gilgamesh quickly stabs forward with two weapons and then swings his weapons upward.
Tilt:
Cross Slash: Gilgamesh leans out, slashes, and then slashes twice more. Dealing decent knockback. Has long end frames.
Up Tilt:
Double Trouble: Gilgamesh slashes above him with two weapons in an arc. Gilgamesh then slashes again for medium-strong knockback. Has slightly longer start-up and end frames than other moves.
Down Tilt:
Electrocute: Gilgamesh calls a lightning strike directly in front of him, slamming the opponent to the ground, sometimes trips.
Aerial Neutral:
Rolling Slash: Gilgamesh quickly rolls in place, dealing damage all around him.
Fair:
Double Trouble (aerial): Same as up tilt, but directly in front of Gilgamesh, second hit can spike.
Bair
Reverse Dual Thrust: Gilgamesh quickly thrusts two weapons behind himself. Scales quicker with % than most attacks.
Uair:
Mild Rocket Punch: Gilgamesh shoots two rocket fists that explode after a short time, propelling him downward. Longer start-up than most of his attacks.
Dair:
Lowest Dual Thrust: Gilgamesh quickly thrusts two weapons below himself, can spike.
Neutral Special:
Actual Rocket Punch: Gilgamesh shoots two rocket fists that explode after a time, can charge to increase range, speed, and damage. Longer start-up than most of his attacks.
Side Special:
Whirlwind Slash: Gilgamesh runs or flies forward while spinning his weapons. Then sends them flying in the other way.
Up Special:
Jump: Gilgamesh jumps up and slams down with his head. Slightly longer end than most of his attacks.
Down Special:
Death Claw: Gilgamesh charges slightly forward and slashes the opponent twice, deals heavy knock-back if both attacks land. Quite slow.
Grab:
Gilgamesh reaches out on one leg and attempts to grab his opponent. Has a longer than average grab range but has longer end frames than most other grabs, not counting grabs like the Hookshot or the Grapple beam.
Pummel:
Gilgamesh equips a weapon and hits his enemy with it, while grabbing an enemy the equipped weapon doesn't change until you throw your enemy or the enemy shakes free.
Throw forward:
Gilgamesh impales his enemy and throws them forward, dealing moderate knockback and moderate damage.
Throw backward:
Gilgamesh leans on his back leg and throws the enemy behind him, dealing low damage and slightly stronger than normal knockback.
Throw downward:
Gilgamesh impales his enemy and smashes them down on the ground while doing a quick pose. Deals the most damage of his throws and allows Gilgamesh to quickly follow up with any attack.
Throw upward:
Gilgamesh calls Enkidu to grab the opponent and carry them upward. Dealing very low damage and picking them up higher depending on their %. Can be button mashed out of but gets harder the higher %. Allies can hit Enkidu but it's harder to make Enkidu drop the opponent the higher the % of the opponent.
Final Smash:
Gilgamesh Morphing Time: It's morphing time! Gilgamesh grows 6 extra arms, making his melee attacks deal more hits for a period of time. Giglamesh has a 45% chance of wielding eight of the same weapon, a 45% chance of using four weapons twice each, and a 10% chance of a random alternate combination.
Feedback is appreciated.