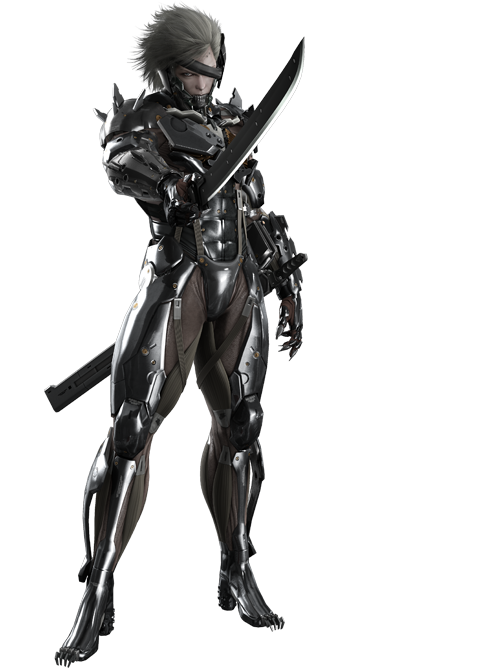 FIRST APPEARANCE: Metal Gear Solid 2: Sons of Liberty (2001)
LATEST APPEARANCE: Metal Gear Rising: Revengeance (2013)

Raiden is the former human turned cyborg star of Metal Gear Solid 2, major supporting character of Metal Gear Solid 4, and once again star of Metal Gear Rising: Revengeance.
In MGS2, he's a normal human man who's been trained by virtual simulations. Sent to foil a terrorist plot, he soon discovers much more behind it and his own troubled past. In MGS4, he returns as a cyborg ninja, now extremely proficient with a sword and possessing lightning powers. In MGR:R, he is on a quest to destroy Metal Gears, as well as the evil Senator Armstrong. He also has super strength.
Despite cold reception in MGS2, he grew to be well-appreciated in MGS4 and MGR:R, and is a well-received character in the gaming world.
I feel he'd be an extremely unique character and one of, if not the, most unique swordfighters Crusade could offer. With fast, damage-racking combo-based attacks, combined with lightning effects and awesome special moves, he has a ton to offer with a high-risk high-reward playstyle.
But I know some people will hate the prospect of him being in, and here's some arguments and rebuttals, as always!
A 2nd MGS Rep!? Seriously?
Let me list off the series factors and what it's done for gaming.
-CREATED the stealth genre
-All games positively received by critics
-Still very relevant, with a new game released recently
-One of the longest lasting game series ever
-Massive fanbase
And 4 of the games in the series are on Nintendo consoles, so it has Nintendo relevance as well.
I don't see why MGS doesn't deserve a 2nd rep, especially one very unique with moveset potential.
Why Raiden?
Raiden is the 3rd most important character of MGS, one could argue. He is, at least, one of 3 characters actually playable, a big feat, and is the protagonist or supporting character in all games he appears in.
With such a unique moveset, I feel Raiden as an MGS rep would be a great idea; and even though he was once hated, he now is a positively seen character in gaming.
What About The Moveset?
Glad you asked!
Raiden's Moveset
Raiden's moveset is based on racking up damage through combos. All his attacks do light damage, but if you continue to combo, you can potentially end a combo with tons of damage. He's a high-risk high reward character, because many of his attacks leave him somewhat open. He's definitely a character not for players new at Crusade.
His Down Special will activate Ripper Mode. This is based after his split personality, Jack the Ripper, from MGR:R.
Raiden's Neutral Moves
Jab: Raiden swings his sword down to the left, then right across the enemy chest (a bit sideways), then leans down as he slices the enemy right in the midsection, then slices back upward to the right. This can be done repeatedly due to its high speeds.
Side Tilt: Raiden attaches his sword to his foot as he slings his foot straight forward, then he leans backward and, with his sword sticking straight out, lunges forward, and then shoots a cloud of lightning from his hand.
Up Tilt: Raiden kicks the enemy in the face multiple times, then kicks them right in the chin as he backflips, sending them flying into the air.
Down Tilt: Raiden twirls around and lightning flashes around him, harming the enemy, and then he performs Sweep Kick, spinning around on the ground and sweeping the enemy.
Crouch Attack: Raiden twirls as he does a handstand in place, hitting the enemy, with a small hitbox.
Ledge Attack: Raiden frontflips with his sword attached to his foot.
Raiden's Special Moves
Neutral Special: Thunderstrike. Raiden slams his foot upwards to the side, with the sword attached to his foot, then slices it, sending his foot right back down. If you keep attacking/comboing, he will hop in the air and smash the opponent right in the face with his foot, before falling back on the ground and slashing the opponent with his sword multiple times, finally topping all this off by shooting lightning straight from his palm, sending the enemy backwards.
Side Special: Cercle de L'ange. Raiden sticks his sword into the ground beside him and hoists himself onto the sword's grip, hanging sideways off of the sword, swinging around and around at a fast rate, before then getting off the sword and slashing the enemy sideways. If you continue to combo, Raiden performs Stormbringer, where he handstands, and with his sword attached to his foot, swings around and around at a very intense rate, with a wide hitbox. Finally, if you keep comboing, he'll end with Wake Turbulence, which supercharges his sword, causing it to have a blue aura, as he slams it heavily right into the opponents side two times in a row. Wake Turbulence is one of Raiden's strongest most knockback-heavy attacks, so use your Side Special to finish off an enemy.
Up Special: Sky High. Raiden kicks the opponent into the air, then jumps right beside them and hacks and slashes at them numerous times before slamming his sword straight into their head, sending them straight down, and he then throws himself downward, slicing into their head again. If you continue to combo, he performs Falling Lightning, in which he jumps right up and kicks downward directionally, hitting his opponent in the chest. Finally, if you keep comboing, he performs Lightning Strike, running straight at the opponent before heavily slashing them with an aura of lightning, sending them flying.
Down Special: Ripper Mode. You can only do activate Ripper Mode when you're past 50%. Ripper Mode causes Raiden's eye and armor trails to glow completely red, and a sinister voice change. Stats-wise, Raiden's attack power is severely boosted, and some attacks can kill at very low percents; however, because of how better he gets during this mode, he cannot shield. If you attempt to shield, nothing happens. Basically; Raiden gets severely boosted attack power and speed, but cannot shield. This mode is timed by an energy gauge, and when you run out you cannot activate it again for 25 seconds.
If your Down Special is used when Ripper Mode is out of commission, Raiden performs a parry; if attacked, he will slash the enemy 3 times before kicking them straight outward. If not attacked, he suffers a bit of endlag.
Raiden's Aerials
Neutral Aerial: Raiden swings his foot around, with a jolt of lightning surrounding his leg.
Forward Aerial: Raiden dashes forward in mid-air, and upon hitting an enemy, stabs them, lightning surrounding his sword.
Back Aerial: Raiden slams his sword straight downward, back of him.
Up Aerial: Raiden somersaults as he slices his sword straight upward.
Down Aerial: Raiden performs his Heel Slice, where he pauses in mid air and then very quickly, almost teleporting-speeds, brings his heel straight downward on an enemy. Functions as a meteor smash.
Raiden's Grabs
Grab: Raiden reaches out with one hand, palm shooting a bit of lightning that doesn't harm enemies.
Forward Throw: Raiden stabs his enemy then walks back, proceeding to kick them straight forward.
Back Throw: Does the same thing, but flips behind the enemy before kicking them.
Up Throw: Raiden slices his enemy a few times then grabs them with one hand and throws them upward to the side.
Down Throw: Raiden throws the enemy to the ground and reaches to their chest, suddenly pulling upwards and crushing a blue "heart", and then hops on the enemy with his sword before jumping backwards.
End Note
I worked really hard on Raiden's moveset, and enlisted numerous videos and researched him. I hope it was worth it!
Alt costumes and such will be coming later, along with Raiden's Final Smash.
The videos are essential for grasping his moveset, so here they are.
Moveset Videos: