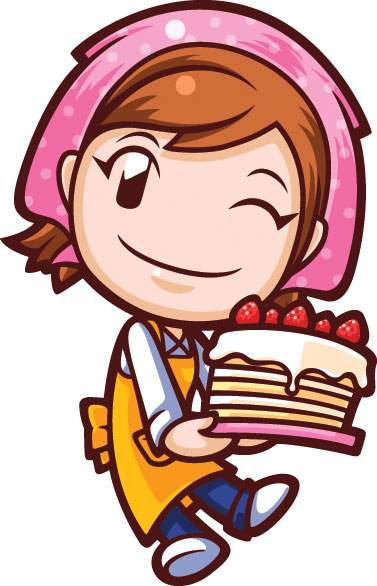 FIRST APPEARANCE: Cooking Mama (2006)
MOST RECENT APPEARANCE: Gardening Mama 5 (2014)
Mama is the lovable lady cook who cannot get enough of life in general. She's always doing new things; she's a babysitter, a camper, you name it, she's done it. Behind those big old eyes lie a woman who has done quite a bit in her life. And believe it or not, they call her Mama for a reason; she looks so young, but has 2 children!
She's the protagonist of the ever-popular, Nintendo (and mobile) platform exclusive Cooking Mama series. There's 11 games in the series so far, and it's been quite a hit. She's appeared in many 2D and 3D appearances, and had a title on the 3DS as well. Multiple, for that matter. While the game's always been more popular with casual players (they usually get 7/10's or so from critics) they still sell quite well.
Here's a fun fact; one of the Cooking Mama games actually came with an odd item for the game; a...baby. It's used in Babysitting Mama.
While I'm not sure HOW you could dislike Mama, I'm sure there'll be some haters out there. So, here's the arguments and my replies to them!
She's Third Party!
Indeed. But the company that creates her, Cooking Mama Limited, actually renamed itself because of Cooking Mama's popularity. Just a little fun fact.
Also, Majesco, her primary publisher, is a common force in the gaming world and makes much more games then you'd think. They're pretty popular.
The thing is Mama is basically on Layton's tier of exclusivity. Both are constants on all Nintendo consoles (except the Wii U) and both are Nintendo dedicated.
Cooking Mama on it's own is a very rare kind of series; a cooking series. And it's most likely the most famous cooking gaming series out there. And she does even more then that, she babysits, she camps, she..cooks again.
Basically, Mama, Layton, and Maxwell are the 3rd parties who you could easily mistake for Nintendo characters once you see how dedicated their series are to Nintendo.
She Just Cooks!
NO! Tons of Smash characters don't do ANYTHING relating to fighting! The Villager, the Wii Fit Trainer, PAC-MAN! Ever seen Toad brutally slam Bowser to the ground? NO! It doesn't matter if they don't fight; they CAN in Smash Bros, and that goes for Crusade as well.
Can you think of any more arguments? If so, feel free to comment them.
Now, let's get on to Mama's moveset!
Mama's Moveset
Mama is a very odd fighter, mixing in cooking, animals, camping, and even babies in her moveset. Her special moves are based on constantly tapping and high-risk, high-reward scenarios designed to dish out big damage.
Also, I've actually never played much Cooking Mama..forgive me if I mess up with this moveset!
Neutral Attacks
Neutral: Mama slaps forward a spoon.
Jab: Mama swings the spoon back and forth, then swings forward a frying pan.
Side Tilt: Mama gets out a little cup and opens the cap on top, and a beautiful, long flower shoots forward out of the cup. This can juggle.
Up Tilt: Mama cooks an egg in her frying pan and swings her frying pan upwards, sending the rapidly growing egg yolk upward. The yolk can juggle, but not the pan.
Down Tilt: Mama lays down a picnic blanket, which causes damage, and puts some food items on it, which cause small hitboxes when they land.
Mama's Special Moves
Neutral Special: Mama crafts something out of any kind of material. You can cancel her crafting by pressing the neutral special button while she crafts, and the second time you press it she'll be creating another kind of craft. You can make multiple different crafts. They're all one use, but do great damage.
Bead Necklace: Once created, Mama can swing this forward and it'll soar straight from her, like Sheik's neutral special in SSB4. This stuns enemies if it catches them alongside damaging them.
Airplane: Mama makes a little airplane, and sends it forward. You can make it explode into confetti any time by pressing the neutral special button. It goes very fast, so make sure you have a target in mind. On impact it explodes into confetti.
Bird House: Mama shows off her bird house she's just created and then is surrounded by birds, that peck at any opponent that tries to harm Mama. They will soar away eventually and can be defeated after 3 hits of any type.
Clay Pottery: Mama walks around with a heavy clay vase, and once you press the neutral special, she drops it, causing it to "break" and send clay everywhere. If you do this very close to an opponent, it deals huge damage
Sewing Machine: Mama holds a sewing machine, which creates a large ball of yarn that grows more and more and faster and faster until Mama picks it up, struggling due to the weight, and throws it forward. You can hit Mama and make her drop the yarn at any time.
Painting: Mama starts painting a beautiful photo. You can press the neutral special button to stop painting at anytime; you then can throw the painting at your enemies. However, the more you paint, the more damage the thrown painting does.
Side Special: Mama starts cooking. She cooks random foot items that range from pizza to hamburgers to eggs to just tons of food! The more you press the side special button, the faster and harder Mama cooks. Eventually, she'l reveal the food she's cooked up, which you can either eat or use as a risky weapon; like her neutral special, you can throw the food, which will do a lot of damage but like any thrown item is easy to block.
Up Special: Mama starts planting a flower. The more you tap up special, the better the flower will be. Eventually, the flower starts growing and shoots upwards, taking Mama with it, until flowers start sprouting side to side from it and the big flower falls down, throwing Mama upwards. The little flowers also deal damage, and the big flower has a small vortex effect, so don't get too close!
Down Special: Mama constructs a tent. The more you tap the down special button the bigger and better her tent will be. Eventually, she will finish up her tent, which starts sucking nearby enemies into it. If the opponent is sucked in, they get thrown around and get hit everywhere inside the tent until the tent bursts, sending the enemy flying.
Mama's Grabs
Grab: Mama looks awfully concerned, and reaches towards the enemy.
Pummel: Mama steps back and shakes a plastic baby, hurriedly, in the enemies face.
Front Throw: Mama holds a real baby, who whacks the opponent with their milk bottle, causing Mama to laugh.
Back Throw: Mama does the same thing, but grabs the opponent's hand and twirls them behind her, then turns backward.
Up Throw: Mama gets out a huge plate and puts the enemy on it with the other hand, and then throws the plate upward, sending the enemy flying straight up.
Down Throw: Mama gently puts the enemy on the ground, and pours a bag of soil on them, then pouring water on them, causing the enemy to be stunned momentarily then fly to the left/right if they're not hit while stunned.
Mama's Aerials
Neutral Aerial: Mama puts her hand forward and a squirrel runs up to her hand, quickly soaring forward for a short distance.
Forward Aerial: Mama holds a baby, who slaps forward with their little feet and a rattle.
Back Aerial: Mama swings a frying pan behind her.
Up Aerial: Mama jabs a fork above her.
Down Aerial: Mama throws a hamburger down to the ground. This can actually meteor smash.
End Note
While Mama isn't completely done (can't forget the Miscellaneous section and such) this was a moveset I made rather quickly compared to, say, my Castle Crashers, so that's good!
I really tried my best, and I'd love feedback.
Support List (10):