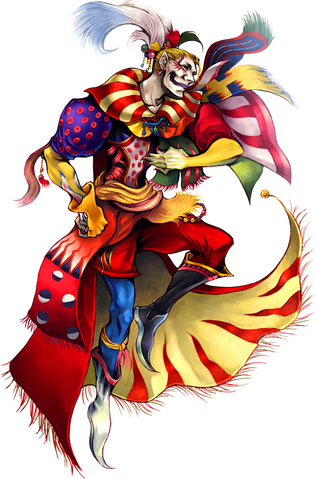 Background
Kefka Palazzo is a powerful mage / jester and the main antogonist of Final Fantasy VI.  FF6 was one of the most popular entries in the series, commonly rivaling FF7 for the title of "greatest FF of all time" and receiving numerous ports and updates, including most recently a port to IOS and Android as well as the Amazon Appstore, making it playable on Amazon Fire TV and Kindle.  Kefka himself has appeared in
12
spin-off games and
3
outside series' (Dragon Quest, Lord of Vermillion, Puzzle & Dragons).
Kefka represents a complete departure from the usual villain formula, especially in prior FF games, and this has led him to become one of the most popular villains in FF history.  While 6 did not have one hero character who stood out (arguably Terra did, but not by much), Kefka stood out from the rest of this game and the entire series.  Other villains of FF have been cold, distant, ruthless and bent on their goals.  Kefka is loud, maniacal and destructive.  His popularity as a villain of FF is rivaled only by Sephiroth of FF7.
TL;DR and for those unaware of the character/game:
Basically, imagine DC's
The Joker
and give him powerful magic and godhood with the desire for nothing but destruction, for the fun of it.
Why Kefka?
Kefka debuted on the SNES, and his game stands out as a lasting classic of FF's days on Nintendo exclusivity.  He is recognizable, unique, popular, interesting, reps the series well and reps most importantly the Nintendo side of the series.  And because Sephiroth is mainly a Playstation villain, Kefka is uniquely suited to fit the villain role in smash for FF.
You can read more about Kefka
here
.  I recommend the Personality section.
What can he bring to the game?
Kefka will offer a mage ability-set, but unlike any other mage ever presented Kefka will rely on trickery, deception and baits with how he uses his power.  Keep in mind the tactics of The Joker here, it's all about Sleight of Hand (and the fun of course!) before going for the kill.
Moveset
Tilts, throws, aerials, jab and dash attack should all be some combination of elemental spells, given unorthodox twists.  Dissidia variations of basic fire/ice/lightning spells could be drawn from, and there's also the Heartless Angel technique, Confusion status (some attack or throw inflicting the "dizzy" state most likely), and FFRK access to dancer skills can all be drawn from if necessary.  Heartless Angel in particular would be a good one to use, he started off the final battle with it and brought the entire party to 1 HP no matter what.  The attack basically involves some angels falling from above, but there's really no room for it unless maybe on a throw.  Here's the real meat of the moveset:
Forward Smash
Hyperdrive
Kefka's charging animation for this move looks like he is sleeping while hovering in midair.  When the charge is released, he suddenly 'wakes up' and launches a series of explosions along the ground in front of him.  After the first two, these explosions can track opponents upwards into the air.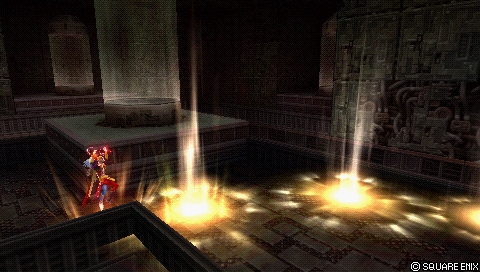 Down Smash
- Meteor
Kefka summons two orange meteor orbs on either side of himself which fall to the ground from slightly above his own height.  They explode on contact with the ground, but then suddenly shoot out of the explosion in a straight line towards the nearest opponent on their respective sides of Kefka.  If no opponent is targeted, that orb goes straight along the floor.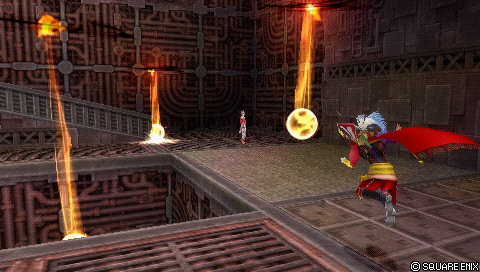 Up Smash
- Ultima
Kefka shoots a tiny energy orb out of his fingertip pointing up.  This seemingly harmless little thing travels slowly a short distance, then violently explodes multiple times over a wide area above Kefka.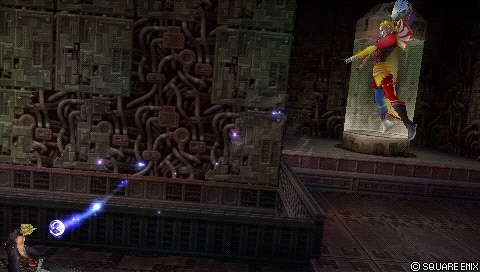 Neutral Special
- Forsaken
Kefka endures a long start-up time, however this animation is shared with down and up special (see down special for reason and use, then see extra note at the end of the special moves).
After the start-up if Kefka has not been attacked, he summons a field of energy above the nearest opponent.  This field stays a short distance above them no matter what for a set amount of time, and every second or so drops an orb of energy.  These orbs fall somewhat slowly and ONLY straight down.  However, they explode on contact with the opponent or the ground, or after a short distance of hitting nothing.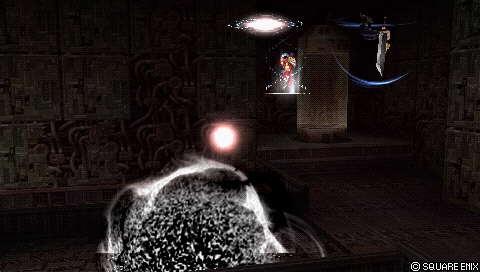 Pictured:  Energy field in the upper middle that stays above opponent, falling energy ball in middle of photo, and bottom is what the explosion looks like
Side Special
- Zap-Trap Thundaga
Kefka targets the nearest foe, and after a brief signature start-up animation they are encased by lightning, which is not in contact with them.  If they move, they will be hit and take big damage and stun.  This move is perfect for catching hasty opponents and forces your opponent to constantly be thinking rather than constantly rushing.
Down Special
- Illusion Trine
Kefka performs his taunt...seemingly.  EXACT same animation.  If attacked during the taunting, he disappears and the opponent is assualted by Trine, 3 magic triangles appearing around them which quickly close in for damage.  Inflicts Dischord, lowering that opponent's damage output and increasing damage intake for a short time.  If Kefka is not attacked, he will have some kind of a long end lag with it's own distinctive animation, making it risky for him to just throw this out whenever he wants.
Up Special
- Havoc Wing
Kefka starts with his taunt if he is on the ground, then turns semi-god to sprout his large wings and attack forward with them. He then uses them to boost himself upward rapidly
Note:
Because Up/Down/Neutral special all start with taunt, this is a perfect illusion mix-up.  The opponent has no idea whether the follow-up of the taunt will be a large physical attack, a field that will follow them around dropping bombs, or no follow-up at all.  If they try to attack Kefka during it, they risk it being the counter attack rather than the vulnerable start-up time of an offensive special move.
The shared animation does not necessarily have to be his taunt, it can be it's own thing.  Up to spriter's or whatever.
Final Smash - Kefka's Tower
The Warring Triad appears, which Kefka absorbs into himself and become God Form.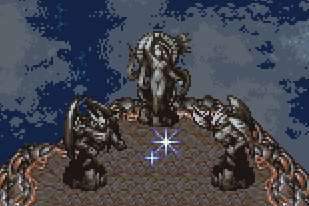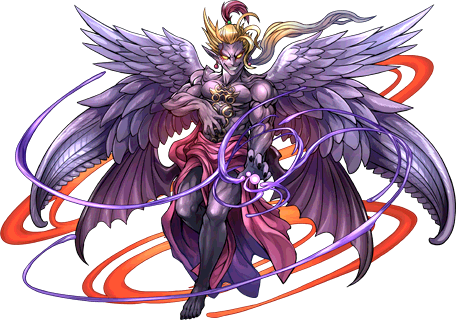 Once he has done this, he summons debris from off-screen and/or the stage ground to create his tower.
Kefka sits atop his tower and summons down multiple Light of Judgement beams, dealing massive damage and pretty much killing anyone hit.  These beams are very similar to Ness/Lucas' finals smash, but they travel in straight vertical lines and reach the floor near instantly.
Conclusion
Overall, Kefka is an extremely unique and important part of FF history and a fan favorite.  He's also just crazy enough to work as a sole FF villain rep, and like The Joker can appeal to both hardcore fans and newcomers alike.  Support Kefka today!