I recently suggested that we add Orcane from Rivals of Aether into Super Smash Bros Crusade. And After making that suggestion I thought "Gee, wouldn't it be nice if he got a stage as well?". In the original game, Orcane got his own stage in the form of Merchant Port. But rather than just adding that stage into the game I got the idea of making a transition stage, where you go to all four main Rival's home stages.
Section 1: Fire Capitol
Fire Capitol is the hometown of both Zetterburn and Forsburn, but is mainly the home stage of Zetterburn. It features a flag that hangs from a platform, some boxes to stand on and a part of the building also serves as a raised platform. With hazards off, the raised platform becomes a non-solid platform to prevent wall combos
Section 2: Air Armada
This airship is the home stage of Wrastor, and rightfully so. The two propellers that keep the ship afloat serve as platforms and the big spring in the middle can be used for intense air battles. The spring is removed in the no hazards version.
Section 3: Merchant Port
Located in Orcane's home Water Town, the Merchant Port is where Orcane got his reputation for being a bratty trickster. It's used for transporting water to the real world, and thus has two water containers below the two main platforms. When these water containers are filled, you can attack it for a powerful attack that hits anyone above and below the platforms. It's also got multiple spinning platforms in the center spinning around like a windmill. The no hazards form has no water containers and has two small platforms in the center instead of multiple spinning ones.
(This image was from an early version of the game, which is why the basic mode only has a single platform in it)
Section 4: Rock Wall
Rock Wall was built for protecting the Aetherian Forest from harm and is the home stage of Kragg. It features four small platforms in a layout similar to Good Egg Galaxy from Crusade 0.8.4. With hazards on, this stage has walkoffs. Without the hazards, the walkoffs end by the platforms.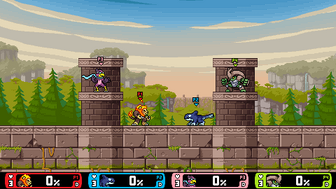 These four sections are chosen at random and the transition is similar to the Caste Siege transition. I believe this can be both a fun and competitively viable stage and I hope you will give me your support!