The second, and perhaps the last, character I am suggesting for.
Don't worry, Curly Brace is coming soon!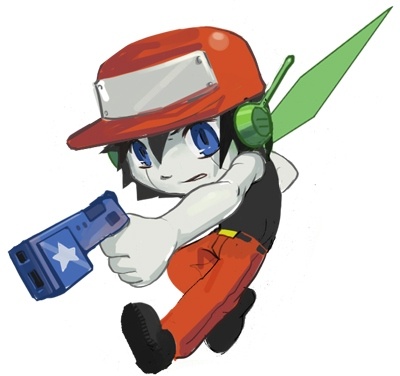 Quote is the silent protagonist of the game Cave Story -- or Doukutsu Monogatari if you're Japanese.  He is a human-like robot who woke up with amnesia in the caverns of a floating island.  He uses a large plethora of weapons to fight in his quest to save the Mimiga, a race of rabbit-like creatures, and stop The Doctor, the current owner of the Demon Crown (which is evil and powerful).
In Crusade, Quote would be a character who has good jumping and is a bit heavier despite his average size.
Intro:
 A teleporter appears and puts Quote onto the stage.
Stance:
 He stands normally, his gun held in his leading hand.  He bounces on his toes every so often.
Idle:
 Looks behind him, at the background, and above him before resuming his stance.
Walk:
 He walks forward.  Nothing special.
Run:
 Runs forward.  Nothing special.
Shield:
 Puts his arms up defensively.
Dizzy:
 He sways a bit, glitching into other parts of animation periodically.
Sleep:
 He looks at the ground, unmoving.
Taunt 1:
 He picks a small energy crystal out of his pocket and casually tosses it upwards, catching it, and placing it back into his pocket.  The sound of picking one up from the game also plays as he tosses it.
Taunt 2:
 He pulls the Map System out of his pocket and studies it for a moment before putting it back into his pocket.
Victory:
 The Silver Locket is clasped in one hand at his side as he looks off into the distance, slowly hefting the Rocket Launcher up onto his shoulder.
--------
Jab:
 He strikes twice with his open hand before swinging forward overhand with his gun.
Dash Attack:
 The Booster gives him a short boost, sending him forward head-first.  Decent ending lag, good knockback, viable kill move.
FTilt:
 A reaching swing with his gun.
DTilt:
 Kicks forward with one leg while crouching.
UTilt:
 He thrusts his open hand above him, a Whimsical Star appearing above his palm.
FSmash:
He winds up, one leg held off the ground as the Blade is held behind him.  He brings the Blade down, the leg held upward catching him as he cleaves the air in front of him.  Has a good amount of starting lag, but covers a wide area and has good damage and knockback.  Sweet spot near the end of the blade that sends opponents down and deals more damage, sweet spot at the tip of the sword that sends opponents flying away, but dealing less damage.
As he charges, he holds the Blade behind him with one arm. When released, Quote swings forward, throwing the Blade. It spins rapidly, moving forward a bit before retreating and returning to Quote who catches it. Does multiple hits on the back, knocks opponents away at the front, and it does has a fair amount of ending lag. (Thanks to NaughtyOttsel for the idea.)
DSmash:
 He pulls out the Rocket Launcher and holds it slightly behind him as it is charged.  When released, he hops into the air a few pixels and blasts the ground below him with rockets.  Some starting lag, creates smoke that deals minimal damage and knockback and the blast itself that deals a lot of damage and fair knockback.
USmash:
 He swings a red gun (the Fireball) above his head in an arc, leaving behind a firey trail of fire.  Little lag on this move, but does not give high knockback or high damage.
Neutral B:
Polaris.
 The Polaris is charged up, a series of short beeps playing as the weapon charges up that increase in frequency dependent on the level of charge.  (For those who have played the game, think of when you charge the Spur.)  There are 6 levels of charge, producing one small shot, 2 small shots, a large shot, a small beam, 2 small beams, or a large beam.  The 6th level also makes the 3 Whimsical Stars (each of varying size, and therefore damage) spin around Quote for a brief moment.
Side B:
Fireball.
 The Fireball is shot forward, the shot bouncing along terrain and even off walls for a short time.  The head deals moderate damage and also causes the shot to dissipate, the tail deals little damage.
Down B:
Bubbler.
 The Bubbler is charged briefly before releasing a short stream of bubbles.  Charging lasts about 1.5", and lasts only as long as the Special button is held, a minimum of 0.5".  Releasing early makes for a quicker attack, but will also mean less bubbles.  Bubbles can be aimed slightly when shot, the bubbles only angling a few frames after they were shot.
Up B:
Booster.
 The Booster is activated, allowing for free aerial mobility for several brief seconds.  This move deals no damage.
NAir:
 The Whimsical Stars spin around Quote briefly.  The largest star gives decent knockback.
FAir:
 A swift chop in front of him with his free hand.
BAir:
 The Booster blows some exhaust behind Quote.
DAir:
 A diving kick.  Quote falls down when he lands.  Sweet spot just as Quote hits the ground, doing fair amounts of knockback.
UAir:
 Swats his gun above his head.
Grab:
 He reaches forward with his open hand to grab opponents.
Pummel:
 Get pistol whipped, son!  (More accurately, he just smacks them with the hilt of his gun.)
FThrow:
 He slashes them with the Blade, knocking them forward.
BThrow:
 Quote turns around and shoots the target with a rocket.  Good knockback, valid kill move.
DThrow:
 Opponent is thrown to the ground and heel-slammed.
UThrow:
 Quote shoots them with the Bubbler, the bubbles carrying the target upwards before all simultaneously bursting and knocking the opponent upwards some.  Knockback does not stack (?) well, meaning it gives less knockback at higher percentages than other moves.
Get-Up Attack:
 He spins around using his Booster, swinging his legs around, the Booster righting Quote onto his feet.
Ledge Attack:
 He smacks what's above him on the ledge with his gun as he hoists himself onto the stage.
Final Smash:
King's Finisher.
 King appears, Blade in hand, as he dashes forward a short distance.  The first opponent encountered is trapped into a combo attack from King, his finisher causing the air to erupt into slashes, launching the opponent away diagonally upwards.  Deals a lot of damage, even if it does not kill.
Victory theme should be the Heart Canister theme from the game itself, but remixed.
Why Quote?
Pros:
-  Has had 2 games and 2 "redone" versions for WiiWare and 3DS.
-  Would add an indie representative.
-  Good moveset potential.
Cons:
-  
Shovel Knight seems to be the most popular choice.
Post notes:
Just to sate those "Why isn't Curly Brace in any of this" comments, she could be an alternate costume for Quote.  I had intended for her to be a seperate character at one point -- hence also why some weapons like the Machine Gun and Nemesis do not show up in this moveset -- but ultimately, I never got around to planning her in full.  

Strike that, I'm planning a full moveset for her. Stay tuned for more info.
Anyway, like always, this is by no means a definitive moveset, and welcome any and all opinions.  If you'd like to support it, great.  If you think this isn't a good idea, or that there are other or better characters to support, great.  I hold no contempt or judgment for you either way.
Thank you for your time, and have a lovely day.
Supporters: