Hello, I would like to tell you about a french software (also translated into English), which includes of old video games, with which you can play with other players online.
Super Smash Bros. Crusade is present and party are played every day.
To create / join games, it's easy (it is not necessary to register):
To change the language to English:
Then you need to add Super smash bros. crusade, two solution :
1) First you can download again SSBC in Created or Join a party of SSBC, the game will automatically download to RomStation, is the simplest.
2) Or if you already have the game and don't want download again, to avoid this, I created a file for download (only 2,00 Ko) and a small tutorial :
Tutorial add SSBC without download again:
Then two options:
1) Created a new party, Press

and selecting SSBC in the list of games (use search bar to quickly find)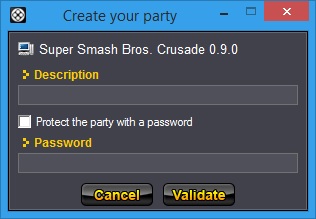 You can add a description and a password if you want a private party, then validate
Then copy the "Host server IP" and wait other players, and press Start to start when you wish, and then paste (Ctrl + V) the "Host server IP" in the online mode / join in Crusade.
2) Or Join a game, you copy the IP and when the host starts the game, paste the IP in Online / join.
I hope that this software will be useful for your part of Super Smash Bros. Crusade.