After so many character threads, I decided to have my Stage Discussion debut with a stage from my favorite game of all time..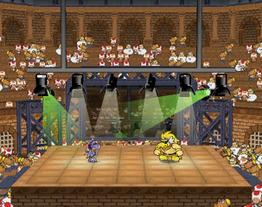 Bigger Pic of Glitzville:
WELCOME TO THE GLITZ PIT!
The Glitz Pit is considered by many people to be THE best Thousand Year Door chapter, including myself. It perfectly blends Thousand Year Door's whackiness with it's awesome fighting system, alongside memorable and colorful characters and areas.
Why The Glitz Pit/Glitzville?
As I said, tons of people widely consider Chapter 3 to be the best chapter and Glitz Pit/Glitzville to be the best area. It is well-loved, and certainly fits the theme of Crusade, being a fighting-centric arena. And really, not many other TTYD stages besides possibly Rogueport would be on the level of Glitz Pit/Glitzville.
But Paper Mario Isn't Playable!
Yes, not yet, at least, but Paper Mario is a very important Mario sub-series and one that is well known, well loved, and basically praised constantly. Regardless of it having a rep or not, I feel it deserves a stage.
Why Do You Keep Calling It Glitz Pit AND Glitzville?
From here on out I will call the stage collectively Glitz.
What makes Glitz unique is that it is a transforming stage that is rather different in both transformations. I felt that just having a boxing ring would be a bit boring, so I decided to throw in the just as colorful Glitzville as well.
Okay, Can You Get Onto The Stage Itself?
Sure, let's start!
Glitzville
The level begins in Glitzville, right under the blimp. Glitzville is a wide stage, but floats in the air, with no walk-offs and such. If you can keep an opponent off that stage, you don't need to worry about them walking back on.
Glitzville is a very big stage, as I said, and it is very interactive. For instance, you can jump on the various buildings, like the Hot Dog Stand. However, being made of paper, most buildings are destructible. It takes a while to get them down, but if you can, they won't sprout back up for a while.
You can even hop onto the Chain Chomp logo, if you want. Also, various NPCs watch you battle, but you can't hit them.
The Glitz Pit
After a while, such as fourty seconds or a minute, or whatever, the stage turns to The Glitz Pit!
The layout is a lot like the Boxing Ring in SSB4, yet not identical, of course. The stage is big and has spotlights pointing down. You can even climb on them.
When a character gets good hits, the crowd cheers and the spotlight shines on whoever dealt said hit.
Also, there's a lot of audience interaction: Sometimes you'll have to dodge various objects thrown (and sometimes try to get them!) like rocks and soda cans and sometimes healing mushrooms.
The stage has stairs leading down to the audience, but you'll be covered by audience members, mostly, so don't get lost!
After a good battle that has lasted awhile, the unique stage hazard appears...
Get ready for..
THE RAWK HAWK!
Rawk Hawk is the stage boss of Glitz Pit that attacks all fighters. He's swooping, fast, and can even float a bit. He dishes out his famous attacks, like a side kick, his Supersman Slam (a chest dive), and can even drop the spotlights on fighters! Fighters can either work together to take out the Rawk Hawk or can keep fighting and eventually take him out on their owns.
Make sure you don't get RAWKED!
Other Facts
A little idea I have is to make every fighter 2D on this stage. Just something I wanted to throw out there.
Rawk Hawk behaves like a powered-up normal fighter, with quicker and stronger moves.
Music
Glitzville Theme
Rawk Hawk's Theme
Paper Mario And The Thousand Year Door Theme
Battle Theme