Stay fresh!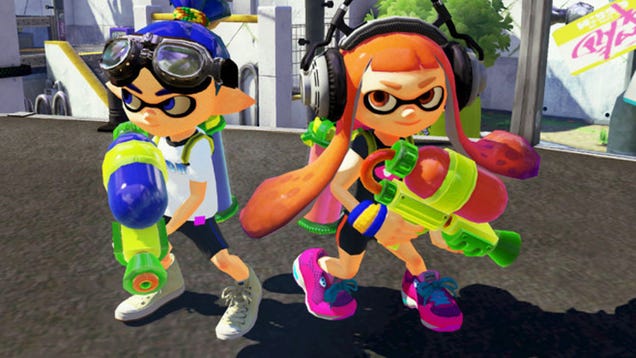 (Listen to this as you read on)
From Nintendo's newest IP, comes the Inkling! More specifically, the female one on the right.
Now, what makes this character so special? Ink! The character relies on covering the stage in ink - nearly every one of her attacks does this! Opponents move a lot slower in her ink, making it easy to land a few solid hits. However, the downside is that the ink only lasts on the stage about 15 seconds, so she needs to constantly apply it.
There is another issue Inkling has to deal with: ammo! It will recharge completely on death or final smash, but to recover it mid- battle, she needs to take a dive with her crouch.
Without further ado, part of her moveset:
Crouch: Squid
Pressing crouch creates a small puddle at her feet and she dives into it in squid form. Doing this recharges her ink meter. In addition, if she moves through ink, she will move much faster than running. She can even jump while in this form!
A Combo: Splattershot
Inkling shoots a rapid-fire squirt gun, which covers a short distance in front of her in ink. The damage and knockback to opponents is minor, but this attack can be spammed very easily.
Forward Tilt: Splattershot
Essentially the same as her combo, she walks forward while shooting her splattershot while the button is held. The range and damage are slightly more than on the combo, but the fire rate is lower.
Dash Attack: Splat Roller
Inkling takes out a paint roller and charges ahead as long as the button is held down, covering a lot of ground in ink while also doing a good amount of damage and knockback. A great, all-around move, though doesn't have much range.
Up Tilt: Blaster
Inkling takes out a cannon and fires a small shot upward. After traveling a short distance or upon contact with an enemy, it explodes in a burst of ink. This has great knockback and comes out relatively quickly, but isn't much good for spreading ink and has a decent amount of endlag.
Down Tilt: Inkbrush Sweep
Inkling sweeps the inkbrush in front of her. It's not very strong, but it comes out fast, spreads a bit of ink, and she can follow up from it.
Forward Smash: Splat Charger
Inkling takes out a sniper rifle and charges it. Releasing the button fires a concentrated shot of ink that covers a line up to the maximum distance. If fully charged, this attack has massive range, damage, and knockback if it connects. Unlike other smash attacks, you can hold the maximum charge and wait for an opponent to get within range.
Up Smash: Splatling
Inkling takes out a heavy gatling gun and aims it upward, revving it up. Releasing fires a large number of shots straight upward, dealing a bunch of rapid hits before ejecting the helpless opponent. It doesn't cover much ground in ink, but it's very powerful.
Down Smash: Dynamo Roller
Inkling charges up, and slams a big paint roller down. This has heavy knockback if it hits, but is quite slow. It also sprays some ink forward, which has a minor effect on opponents.
Neutral Aerial: Splattershot
Pretty much identical to the neutral combo, she shoots out some ink with her splattershot. Minor damage and knockback, but useful for covering the ground and keeping opponents away.
Forward Aerial: Inkbrush Swipe
Inkling takes out a paintbrush and swipes it forward. The swing itself does moderate damage and knockback, and it lets loose some ink above her for some extra damage (which eventually falls to the ground to cover some turf if no one is hit).
Up Aerial: Inkbrush Jab
Inkling takes out a paintbrush and stabs it above her head. It comes out fast with little endlag, but it's not very strong and doesn't spread any ink.
Back Aerial: Slosher
Inkling takes out a bucket and flings some ink behind her. It does quite a bit of damage and knockback, as well as spreading a good amount of ink. It does use up a lot of her resources, though.
Down Aerial: Aerospray
Inkling takes out the Aerospray and fires a rapid barrage of shots below her. It doesn't do much damage or knockback, but it's very fast and covers a good amount of ground in ink.
Grab: Sucker
Inkling attempts to grab an opponent. If she connects, her hair also latches on.
Pummel: Gun Butt
Inkling bashes the opponent with her splattershot. The only real melee attack she has, but it'd be weird for the pummel to be anything else.
Forward Throw: Splattershot
Inkling throws the opponent forward before unleashing a barrage of shots into him/her. Very similar to Mewtwo's.
Up Throw: Up Chuck
Inkling chucks her opponent upward, and follows it up with a headbutt. Fairly standard as far as attacks go, but it has the most knockback out of all of her throws.
Back Throw: Splattershot
Extremely similar to the forward throw, Inkling does a roundhouse throw before unleashing a barrage of shots.
Down Throw: Come on and SLAM!
Inkling takes the opponent and slams him/her into the ground, knocking them up slightly. Like a lot of down throws, she can combo this into another attack (such as forward aerial or up tilt).
Neutral Special: Bomb
Inkling takes out a bomb and throws it. If you tap the button and release quickly, a Burst Bomb comes out, which explodes immediately upon hitting any surface or opponent, doing light damage and knockback. If the special button is held down, it can be aimed (ala Yoshi Eggs) and is instead a Splat Bomb, which explodes after a couple seconds, dealing heavy damage and knockback while using a lot more ink. If down is held as the direction, then it instead becomes a Seeker Bomb, which acts identically to a Bombchu, traveling forward (leaving ink as a trail), exploding after a short time or upon contact with an opponent. The Seeker does a great amount of damage and knockback, yet uses a lot of ink.
Side Special: Splash Wall
Inkling deploys a device that creates a wall of ink in front of her. It has a height that's about 1.5x her height and doesn't cover much of any terrain with ink. However, it lasts a long time and blocks opposing projectiles, while letting hers through. It also deals a lot of damage to any opponent who passes through it. After taking enough damage, the wall is destroyed (~15%).
Up Special: Super Jump
Inkling turns into a squid. After a brief charge time, she is launched into the air. This trajectory can be altered slightly, with the default at a 80 degree angle. This does no damage or knockback, and she is released from the squid form about halfway down (or if she grabs a ledge), giving enough time for a small attack before landing. She can use this even if she's out of ammo.
Down Special: Sprinkler
Inkling places a sprinkler at her feet, which attacks with light rapid shots around it. It stays out until destroyed (it has 5% health).
Final Smash: Kraken
Inkling turns into a giant squid! While in this form, she leaves a trail of ink wherever she goes and does massive damage by jumping into opponents. Otherwise, this form is the same as the down special. In addition, upon use, her ammo is fully recharged.
(Alternate final smashes could be Inkstrike or Killer Wail, but I thought the Kraken would be more fun)
Supporters: 36
Roy
VultureDuck
Moats
Perfect Hell
Lego Shaq
CJ
Creppy pasta man
TheAmazingMemer
Mikael_Fernandes
Naughty Ottsel
UberChaos11
HypeConduit
Braystar
Smash King
desu
Pakeli
MarioStrikerMurphy1994
Leafyon
ZaiWolfgang
ArtyTank
Sean_McMuffin
lordvaati
SS_Maeweather
Athorment
DestinyIntwined
eris27100
Bedoop Bro
JIMJAM
OmegaSteve777
thebuddyadrian
lightdasher
Lockhead
Axel
Zero of Time
MisterValentine
wheeled_tank