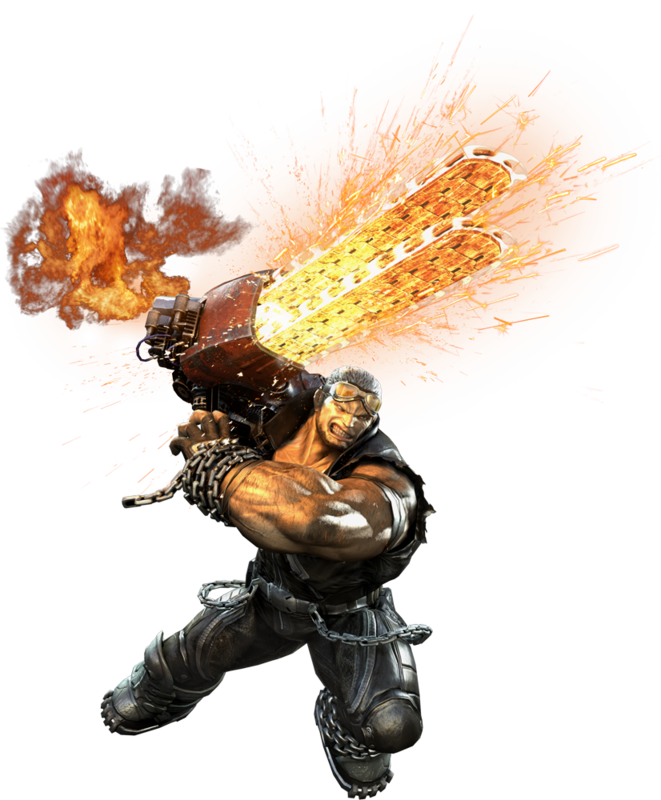 Jack Cayman is the main character of the Max Anarchy franchise. He's a merciless bounty hunter who has a sense of heroism... and violence... LOTS of violence. After winning the Deathwatch competition back in MadWorld (or tearing down the system, however you beat the game,) he seeks revenge on his new bounty Max.
Why Jack: Hailing from the goriest Wii game ever to exist (well, I guess it beats NMH in the blood category,) Jack has tormented his victims in such gruesome yet unique ways. I thought he could bring variety to the fray. Also, just to make this subject not M+, I'm going to skip all the blood and keep this thread appropriate.
Appearance: In Crusade, he'll just stand casually, sometimes switching his arm into a chainsaw.
Movement: Jack would be a heavyweight due to all his mechanisms and weapons.
Gameplay: Balances
Moveset -
Specials:
B - Spear: Jack throws a spear that can go farther due to how long Jack holds it. Once it pierces a character, they receive damage for a short period of time. This is a reference to the fact that in MadWorld, you get points for having a weapon jabbed in an enemy before killing them (kudos to VultureDuck for stating it.) Sometimes, it can cause knockback.
Up B - Air Turbine: Jack picks up a plane turbine from his duel with Von Twirlenhkiller and flies for a long period of time.
Side B - Pistols: Jack takes out his pistols from Jude the Dude and shoots them while lunging forward. He won't go that far.
Down B - Caution!: Jack places a caution sign on the ground with a blade sticking out on the left side. If a foe touches the left side, they get hurt. The right side blocks projectiles. It's like Pac-Man's fire hydrant from SSB4, except more useful.
Final Smash - Choices, Choices, Choices...: From the Yokozuna fight, if Jack is near another player, he gets to choose how he can beat them. Either throwing them in a pit of spikes, electrocuting them, or tossing them into a volcano.
Standard Attacks:
AAA: 3 Standard Punches: Obvious is obvious.
Up tilt: Upward Chainsaw Slash: Jack uses his chainsaw arm and slashes upwards slowly.
Side tilt: Trash Can: Jack picks up a trash can and slaps his opponent causing tremendous damage.
Down tilt: Downwards Chainsaw Slash: Jack slowly swings his chainsaw arm in a downward circle.
Dash A: Motorcycle: Jack rides his motorcycle, but anybody can break it. It'll be a lot like Wario's motorcycle.
Up smash: Wrecking Ball (whatever you do, do NOT make that reference,) Jack takes out a wrecking ball from the Little Eddie boss and jerks it upwards.
Side Smash: Baseball Bat: What better than using the item when you can use one on your own?! Yes, Ness has this move as well, but his bat has nails in it, so it will cause more damage.
Down Smash: Lower Punch: Jack punches the ground so hard, that his nearby opponents will stand shocked for a little bit.
Neutral air: Kick: Jack kicks while in midair.
Up air: Up Slash: Jack swings his chainsaw arm in a circular motion.
Down air: Missile Launcher: Jack faces down and picks up a missile launcher from the Martin fight and shoots it. It's extremely powerful.
Forwards air: Double-Bladed Chainsaw Staff: Jack swings his chainsaw staff slowly.
Back air: Chainsaw Jab: ... isn't it obvious?
Grab: Jack grabs his opponent with his normal arm.
Pummel: Jack punches his opponent with his mechanical arm.
Forword throw: Jack throws his opponent similar to Mario's
Back throw: Jack suplexes the other character.
Up throw: Jack throws the other player in the air and shoots them.
Down throw: He muffles his opponent and throws them onto the ground.
Up Taunt: Jack cracks his knuckles and says "That all you got?"
Side Taunt: Jack puts his fists up and yells "Who wants a piece of the champ?"
Down Taunt: He stands there casually, but if you repeatedly do it, you can hear clean commentary of Howard & Kreese from the first game. Yes, I'm referencing Little Mac's taunts right there.
Others-
Entrance: He looks at a picture of his deceased daughter and puts it in his pocket.
Victory 1: He puts on his shades and says "I don't help people, I kill them." Then gets on his bike and rides off.
Victory 2: Jack kneels at his daughter's tombstone, giving her flowers.
Victory 3: Jack turns his back while Howard & Kreese give him clean compliments.
Victory Theme:
2:28 & beyond
Costumes: 5
Jack (Default)
Red Jack
Blue Jack
Green Jack
Black & White (from the first game)
It doesn't matter if he's accepted or not, I just want to see your opinion on it, but hopefully he'll join the fray!