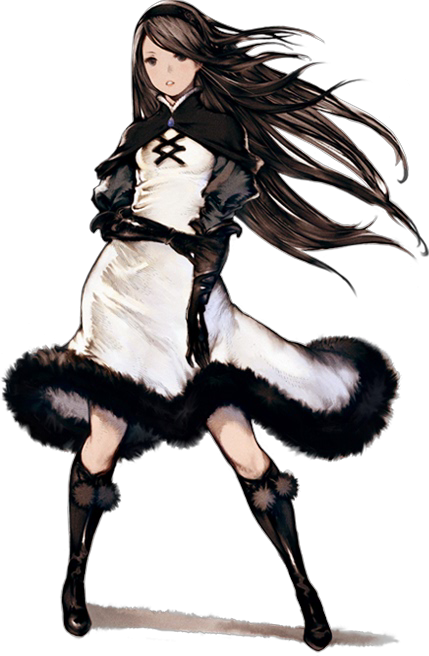 Background
Name: Agnes Oblige
Age: 17 (JPN), 20 (USA, PAL)
Occupation: Vestal of Wind
Origin:
Bravely Default
Agnes Oblige is one of the four main characters of the 3DS game, Bravely Default, published by Square Enix.  With little interactions to the outside world, her sole purpose is to watch over the Crystal Of Wind, which "governs" her world and protects it through her prayers. However, when a mysterious darkness clouds over the crystal, she sets out to the town of Norende to discover the cause of this disaster. Little does she know about what awaits her in the future.
How is she relevent to Nintendo?
Yes, I am doing this, much similarly to how the CrusaDLC and Suggestion Polls operated before.
That being said, she appears in Bravely Default, as well as the upcoming sequel, Bravely Second, both of which are on the Nintendo 3DS.
Why should she be in Crusade?
Reasons:
- There is a lack of females in Crusade. Adding her could even out the odds.
- She could possibly be another rep for Square Enix.
- Bravely Default itself is considered a new twist on an old classic.
- She could provide an interesting gimmick in her playstyle, which I will explain later in this topic.
Gameplay:
There are 3 large mechanics on her playstyle:
1) Weapons
  - Much like Link and Megaman, Agnes could have access to various weapons, such as a dagger, rod, or bow. This isn't really much of a mechanic, just a way of how she could attack.
2) Asterisks
  - Throughout the game, Agnes and her party can obtain various stones known as "Asterisks". These allow her and her team to change to various jobs known throughout The Final Fantasy series. To avoid making her moveset too "dramatic", I will be limiting the number of asterisks to the ones that she is seen to be using whenever a job is previewed, as well as the asterisks used in crossovers, such as "Roads to Dragons"
Asterisks:
This could have a major impact on her playstyle. For example, she could use the Valkyrie's "Jump" ability as her recovery, which could in a similar fashion as King Dedede's, or use the Ninja's "Shippujinrai" as her Side Special, where she could charge it up for a boost forward. Her Down Special could probably be either the Summoner, where she calls upon otherworldly beings to attack her opponents, or the Arcanist to poison her enemies. But what about her Neutral Special?...
3) The BP System
- The core of her gameplay and what makes her unique to Crusade. In Bravely Default, the battle are determined by two options: Brave and Default (kind of obvious, is it not?) Brave allows you to attack an opponent, but can leave you open for attacks. Default allows you to guard against enemy attacks, as well as allowing you to attack more than once in one turn. This determined how the battles progressed in the game: Should you attack and get attacked, or should should you defend to earn more chances?
This could be incorporated into Agnes's moveset as her Neutral Special. By pressing the special button, she holds up a shield similar to the one seen in the game, and if she gets attacked while in this state, this could add 1 Brave Point (or BP) to her BP system. The system itself could work like Little Mac's KO Meter or Shulk's Monado Arts in SSB4, where a number could appear next to her icon, indicating how much BP she has.
But how would this be useful. Well, much like how she would be given additional chances to attack by Defaulting in Bravely Default, in Crusade, it could make her normal and aerial attacks stronger, depending on the number (0 for weak, and 4 for powerful). In order to even this out however, what I propose is that every time she uses an attack that involves an asterisk or job, it would make her lose a BP, much like how it worked in her game. She could probably be given a limit on how much she could use Default, depending the damage it absorbs.
Moveset
Moveset: