Firebrand is a demon and appears as an enemy in the main series Ghosts n Goblins. But ghosts n goblins have also a spin-off series which is called Gargoyles Quest ( the last one of the three games is called Demon Crest for any reason ) where he is the main protagonist. He debutet in the main series and Gargoyle's Quest ( the first one apperead on the gameboy ) was followed by two sequels, a NES game Gargoyle's Quest II in 1992 and Demon's Crest for the SNES in 1994. The games where a mix of sidescrolling adventure with mild roleplaying - video game elements. Like in the Zelda series the player was able to search for secrets, collect bottles for potions, gain new powers after defeating bosses and new abilites to discover different places which are unable to pass without the specific ability. The special thing about the game is that Firebrand can fly and cling to walls and he can spit fire projectiles at his enemy. So its not like any jump and run side scroller, not like metroid it has his own kind.
Ghosts n Goblins are also one of Capcoms memorable jump and run series and Gargoyles Quest too, so in my opinion Firebrand is something special and I would really like to see him in a future version of smash bros crusade. He is also very exclusive to nintendo consoles/handhelds.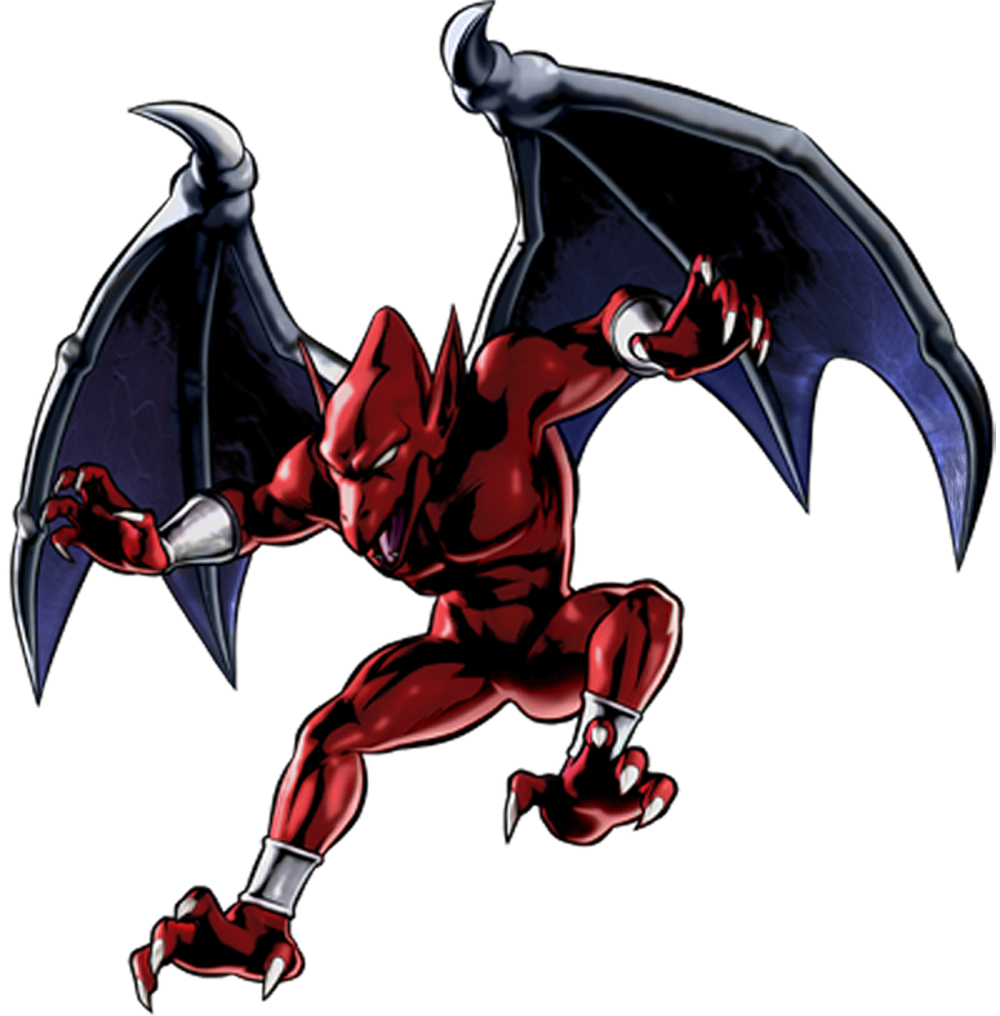 Here is a moveset for him:
Playstyle: He is a mix of a lightweight/fast distance fighter but also a very defensive fighter.
Special: He cant use his hands to grab edges if he is falling, he can only cling to vertically walls with his claws on his feet, like in the original game.
Special-Jumping: Jumps in to the air and than he can fly a little bit higher by pressing the jump button again and again he will use his wings like Pit to fly higher. But after releasing the jump button, he will stay in the air for a short time like in the original Gameboy title instead of loosing height, so he can use his fireball attack from the air. He can also quit staying at one height, by pressing the taunt button.
Jab/Combo: Firebrand attacks with his claws on his hands, like in Marvel vs. Capcom 3 and spit a Fireball against his opponent.
Forward Tilt: Firebrand slashes with his wings.
Down Tilt: Firebrand gives his opponent a headbutt, like in the original game Demons Crest.
Up Tilt: Firebrand jumps and kicks his opponent in to his face with a backflip.
Forward Smash: Firebrand charges himself and make a forward dash like with his Groundgargoyle (Crest of Earth) appearance.
Down Smash: Firebrand uses the spell Shock, which causes an earthquake around him and smashes his opponents out of the stage.
Up Smash: Firebrand charges himself and jumps in to the air and use his wings to smash his opponent away.
Neutral Air: In the air he can spit fireballs at his opponents in any direction the player wants.
Grab: Firebrand grabs his opponent with his claws on his feet, like he clinges to walls.
Forward Throw: Firebrand spits an fire projectile against his grabbed opponent, so he get smashed away.
Backward Throw: Firebrand makes an backwardflip with his grabbed opponent and throws him backwards away.
Down Throw: Firebrand smashes his opponent on the ground.
Up Throw: Firebrand use his wings to fly a little bit higher and throws his enemy up in to the air and spits a fire projectile at him to smash him upside.
Neutral Special: Firebrand spits a fire projectile out of his mouth. This attack can be used multiple times in a row. This attack is called Demon Fire.
Side Special: Firebrand spits an wind projectile which looks like an small tornado.
Down Special: Firebrand transforms in to a Stonegargoyle for a the short period, and this attack works like a shield and protector against projectiles, Firebrand can counter with an Fireball. Similiar to the move from Fox.
Up Special: Firebrand summons an assisting Imp, which attacks nearby opponents.
Final Smash: Firebrand uses the Crest of Infinity which transforms him in to the Ultimate Gargoyle. Now he can fly in any direction and as long as the final smash is working and his attacks/fireballs are now dealing more damage and he have also reduced damage from attacking opponents.
Taunt: Shows his Legendary Gargoyle transformation.
Entrance: He will sit on a pile existing out of skulls, jump off and then the pile disappears, which allows him to get on to the ground and get ready to fight.