As some of you here may have guessed, I'm a pretty big fan of Winnie the Pooh. I've been a big fan of Pooh since I was a kid, but my fascination for Pooh holds quite a lengthy story. Let me take it from the top. (You may want to save this read for later if you're pressured on time; it'll be quite a long read.)
My love for Pooh started with watching The New Adventures of Winnie the Pooh. This cartoon aired before "My Friends Tigger & Pooh", and also aired around the time House of Mouse, Doug, and PB&J Otter were fresh. (So I was a bit of a 90s kid. Whatever.

) The show, as I would later find out, was a bit of a comedic spin on the original stories with new and enjoyable plots. Although TNAoWtP was originally aired around '88, it was re-aired in the late nineties till the '06-'08 range. I loved the hell out of that show. It was vibrant, had a nice soundtrack, and each character had admirable interaction with each other. Pooh himself was so loveable because he was always in the clouds, but he was also always determined to help his friends in need. The most amazing thing about all of these stories is that the foundation was laid upon by a child and his grandfather long ago.
Hmm, strange. A show about best friends aimed for kids that promoted good values as well a fun and easy to understand plot each episode?
...Doesn't this scenario sound awfully familiar?
The same reason people like
that
show is basically why
I
like Winnie the Pooh. This is, for the most part, one of the biggest reasons why I feel that I can empathize with bronies.
The show was funny, but I especially found fascination in two particular episodes: "Sorry, Wrong Slusher" and "Tigger's Birthday Wishes". These episodes, along with several others I can't quite remember the names of, were sort of... dark. For instance, Tigger's Birtday Wishes had the cast in a strange universe where all of Tigger's wishes came true, but would cost one candle on his cake, which had a ton of candles. He eventually gets enveloped by greed, and almost wishes for so many presents that he wouldn't have the ability to wish his way home with his friends. Would they have stayed there otherwise? Forever? Why did Tigger value his sporadic present receiving over his, as well as his friends', return to home? Why were there so many candles on his cake; Was he literally over 100? These were some of the weird questions I came to ask myself when I was that young. (And no, I'm not open to coma theories, thank you very much.)
The day finally came when I caught word of the movie "Pooh's Grand Adventure". Obviously, this movie was already out before I was born, but I heard about it around the time I turned 7. When I finally watched it, I was absolutely
blown away
.
Pooh and his friends went on a quest where they would
search
for Christopher Robin, who is allegedly in great danger thanks to a shoddy translation of his text by Owl. (believe it or not, Owl's not that bright. He may be book smart, and has a great deal of history on his lineage, but he's pretty clueless when it comes to real world applications) The movie has multiple instances where the whole cast are in seemingly life-endangering situations. In the end, when they find Christopher, (and after a god-damned
amazing
musical score) they find that their perception of the world around them is clouded because they are fearful without Christopher. They learn, on the way, however, to work as a team and gradually decipher a motivational speech Pooh tries desperately to deliver from Christopher. It's just a brilliant movie. It takes concepts like separation, loyalty, and unconditional friendship and brings it into a child-friendly series. It was a dangerous idea, but executed
wonderfully
. I over-think this movie and it's meaning often, but that's personally what I get out of it.
Here's, in my opinion, the most beautiful song in the movie, just to show you how different it is from other Pooh movies.
As for the other Pooh movies, they never seemed to take as serious of a plot as this one, but personally, Piglet's Big Movie and The Tigger Movie are both close seconds in quality. The Christmas special and the Heffalump movie were great too. The 2011 film "Winnie the Pooh", however, was a bit lackluster.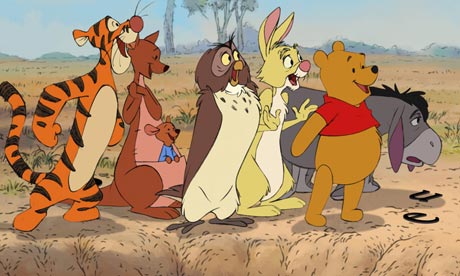 I see a lot of people rave about this movie. Although it had a humor that I could appreciate highly, and it's story was a throwback to the older Many Adventures of Winnie the Pooh, I couldn't bring myself to like it. Points on the accurately British depiction of Christopher Robin, and for homage to the original stories, but it failed to captivate me because not only did it not feel like something truly new for the Pooh series, but it was the first feature length Pooh movie that we received in
six years
. I'll be totally honest, as a Pooh fan since age 2-3,
I STOPPED THIS MOVIE HALF WAY INTO IT.
Now, no offense if you liked this movie, but it just didn't feel right for me. I
personally
remember the Pooh legacy as being an ever-changing, experimental world. This is in some cases good, (practically every movie) and in some cases bad. (My Friends Tigger & Pooh) The only thing I can say for this movie is that it's good
if
the only thing you've seen of Pooh was the Many Adventures movie, and it's likely many people have seen The Many Adventures the most out of any other as it was, in all reality, a Disney classic.
So yeah. I love Pooh because The New Adventures was an awesome show, almost every movie was good, and because him and his friends are awesome characters I can totally click with. Nostalgia. Blargh. Questions?